TelexFree Co-Owner Pleads Not Guilty In Alleged Fraud
August 7, 2014
By Tina Williams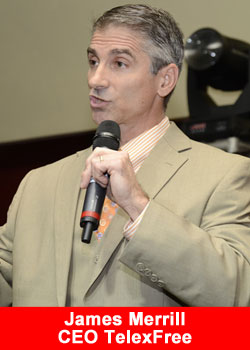 James Merrill entered a not-guilty plea for the TelexFree Inc. co-owner Wednesday in federal court in Worcester, his lawyer said.
Merrill, of Ashland, was president of the Marlborough-based phone service company, which is accused of running a $1 billion global pyramid scheme. His business partner, Carlos Wanzeler, remains a fugitive in Brazil and did not appear in court to face the charges.
Both men have been charged with nine counts of wire fraud and conspiracy. Each charge carries a possible maximum sentence of 20 years, but actual sentences are generally less than the maximums, according to the US Attorney's office.
TelexFree sought federal bankruptcy protection in April, just as state and US securities regulators were days from filing civil fraud charges against the principals. Wanzeler fled the country that month to his native Vitoria, Brazil, while Merrill was arrested and held in jail for several weeks.
Merrill will remain home, wearing a GPS tracking bracelet and on $900,000 bail, officials said.