Vemma CEO Responds To Accusations In The Media
August 1, 2014
By Team Business For Home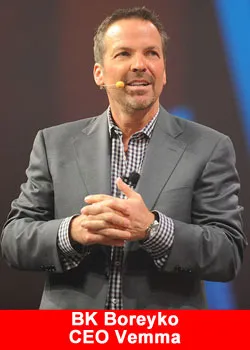 BK Boreyko, CEO Vemma, reponds to accusations in the media in the next statement to Vemma Elite members:
Last year, together we accomplished something only 18 out of the thousands of networking companies in the world did – we GREW by $103 million to finish at $221 million! This marked the biggest, most successful company in my career. It just figures when you're bigger than ever, you'll receive more negative attention than ever. I don't understand why success attracts negativity, but it always has and I guess it always will.
The recent media coverage on Vemma has been disappointing. Our strategy to move to affiliate marketing and improve our business model was designed to make our opportunity more attractive. Well, I learned early on to turn my disappointments into determination. I don't know what fires you up, but hate towards what we do and who we help is my fuel for the future!
Let's talk a bit about the media and their view on what we do. Recently, the producers from the Today Show asked for comments on these topics below and our answers were on point. Some of the topics made it into the show, some didn't. Below I've expanded our responses into more of a discussion format with you.
On accusations that Vemma is a pyramid scheme:
This couldn't be any further from the truth and you notice they don't come right out and call us a pyramid. They just use innuendo and hint that Vemma is illegal, when actually Vemma is an affiliate marketing company that sells high-quality, innovative products. We employ a number of policies that distinguish our model from that of a "pyramid scheme," and take great care in protecting our Affiliates from personal risk while doing all we can to support them in their success.
At Vemma, commissions and bonuses are paid only on product sales. Vemma Affiliates are not compensated for recruitment activities. Vemma is also one of the few companies in this space where everyone first starts as a customer and we not charge to become an independent Affiliate to market our brands; meaning that unlike a pyramid scheme where the primary income is generated from recruiting fees, there are no sign up fees, no required starter kits or renewal fees, and no need to load inventory, as the product is shipped directly to customers very similar to Amazon. In fact, in 2013, over 70% of Vemma's sales were to customers who are not sales affiliates.
Vemma also offers a 30-day money back guarantee on all products. Should Affiliates choose to cancel their Affiliate business for any reason, all resalable products they have are 100% refundable, for up to one year.
On the FTC complaints:
One huge omission was the fact that the FTC complaints referenced were from a span of 10 years, the majority were copies of complaints from the BBB, which had been resolved, and the fact that those that required action by Vemma were resolved within 24-48 hours. When you consider we currently process approximately 100,000 orders each month in the U.S. alone, 160-170 complaints over a span of almost 10 years puts things into perspective. In fact, approximately half of these complaints were non-actionable, meaning they were just comments and there was nothing we could do to respond to the complaint. Here's the bottom line, every one of these complaints that required any action by Vemma has been satisfactorily resolved for the customer.
On Payton Carlucci, the young man that says he lost $1,500:
I've always guaranteed our products, I've never guaranteed a promise of success. I'm just committed to offer the best opportunity we can. We are always sorry to hear about instances where Vemma Affiliates are not successful, but find it unfortunate that Mr. Carlucci is making accusations that are not true.
According to our records, Mr. Carlucci purchased $1,036 worth of products between Feb 8, 2013, and April 12, 2013. He was refunded a total of $174, on May 1 and 2, 2013. He received a $740 commission check on Feb 27, 2013. That means his net 'loss' was $122, not the $1,500 he has claimed. And that $122 may have been the cost of products he purchased for himself. Here's what's even more amazing, he kept, drank or sampled almost $580 worth of Verve. So, for a net $122 out of pocket, he drank about $600 of Verve. We told this to the Today Show producer and yet he still gets on the air. Unbelievable!
On Compliance reforms:
With over 105,000 active Vemma Affiliates, the percentage of those who inadvertently violate policies regarding our business or product claims is very small. However, we take these matters very seriously and have recently started to completely overhaul and improve Vemma's compliance program. That includes:
• Naming our General Counsel to the position of Chief Compliance Officer
• Adding a new position to our Compliance Department solely dedicated to flagging and addressing compliance concerns that appear on websites and social media.
• Working on a compliance booklet for Affiliates, to provide training on product and income claims, along with a series of short, focused, training videos on compliance topics.
• Upgrading our Compliance Standard Operating Procedures to address the use of social media
We are committed to making sure all Affiliates accurately communicate about Vemma and Vemma products and will continually review our procedures to see where we can improve.
On the hidden camera meeting with Dr. Park:
Dr. Park's statements were inaccurate and not representative of the company. He has been suspended pending further review. We will make sure going forward he's accurately describing the Vemma opportunity. To be fair, a 20-minute presentation got edited down to about 10 seconds so we don't really know how things were taken out of context.
To be clear, at no time are Vemma affiliates compensated or rewarded for recruitment. It's simply not part of our multi-tier commission plan. You only have the opportunity to earn money on commissions from the sale of Vemma products. Vemma is a customer acquisition model and one of our most popular incentives is earning free product when you find 3 customers. Of course, discovering the customers who enjoy the products enough to become Affiliates is an important part of Vemma, because you also earn commissions when the Affiliates you develop make sales. But all commissions are earned through sales only.
Dr. Park also inaccurately stated our car and our college tuition programs. We offer bonuses for car purchases and college tuition, but those, too, are based on sales volume alone. It was irresponsible for him to suggest that such results can be so easily achieved within a short period of time, or occur automatically.
What I'd like every Affiliate to learn from this is experience is developing the habit of under-promising and over-delivering when it comes to a customer's expectations towards these brands and the prospective Affiliates toward our business opportunity. Whether you're sitting down with a person or hosting a home event, you can maximize our investment in our brands by providing more value than expected. You are our Brand Ambassadors, we're counting on you to help make Vemma look amazing!
On the ruling in Italy:
We disagreed with the ruling and initiated an appeal, which is pending. It should be noted that the ruling did not block us from continuing to operate in Italy. We would also note that standards and regulations in Italy and the U.S. are very different, and that none of the 49 other countries in which we operate have raised any concerns.
Since the ruling, we have met with Italian officials to work out changes to our pricing and bonus programs, the areas with which they had objections. On Friday, we received a letter from Italian authorities accepting our changes and closing the matter. We are, however, still pursuing our appeal of the original ruling.
Team, here's what we know, we're making a difference and producing sales numbers that is getting the attention of the media. If you think about it, no one criticizes our products, our manufacturing, our clinical science, our charitable giving. The only thing we get criticized for is our business model and how it's presented.
Think about this, if I chose to market the Vemma brands through traditional methods, I'm a hero for bringing healthy, innovative products to the market. But… my choice to divert almost $2 million a week in advertising revenue away from TV, newspapers, magazines, online ads and place it in the hands of hard working people that fall in love with our brands and tell the people they care about them makes me a scam. When you think about it, that's got to play a part in all this negative press. I do want to be careful about not bringing too much attention to this, but if you have an Affiliate that asks about any of the recent media coverage, feel free to forward this. If they want to leave a comment on the today.com, please have them be respectful and professional.
What we do every day, in 50 countries around the world is honorable and ethical. It's a better way to market and a better way to get people the health results they desire. There's not a 'barking dog' that can get me to even consider being a traditional marketer. Those advertising dollars belong to my hard working Affiliates, always have, always will. I wear this public media criticism as a badge of honor to the difference we're making in the world. For that, I thank you for your loyalty to Vemma and the change we're bringing to people.
Let's get to work,
BK Boreyko