Vemma® Honored In Recent Awards Competitions Including CEO Of The Year For BK Boreyko
August 30, 2014
By Tina Williams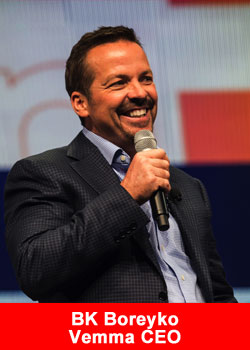 Vemma and its Founder and CEO have recently been recognized with several awards in The Academy of Multilevel Marketing Awards and the 2014 Videographer Awards.
Vemma Founder and CEO BK Boreyko was awarded CEO of the Year in the first annual Academy of Multilevel Marketing Awards. The mission of The Academy of Multilevel Marketing (TAMM) is to recognize and reward industry leaders in all categories of business. The Academy is comprised of an elite group of industry leaders and experts, and honors those that exemplify the best practices and highest standards of the industry.
"I am honored to have been chosen for this award and thank the Academy for their work to promote and recognize excellence in the industry," said Boreyko.
The competition consists of nominations and voting in 10 categories. Vemma was nominated in three categories, including Company of the Year and Product of the Year for the insanely healthy energy drink, Verve®. Winners for all categories were announced on the Academy website, academyofmlm.com.
Vemma was also recently honored with six awards in the prestigious 2014 Videographer Awards for video projects addressing company information and culture, as well as products and charitable efforts.
"Videos are such an important tool for telling the Vemma story, and we are so pleased to have been recognized by the Association of Marketing and Communication Professionals for our work. I congratulate the Vemma video team on their creativity, excellence and hard work," said Mark Patterson, EVP of Marketing and Brand Development.
The Videographer Awards is one of the most coveted awards in the video industry. Winners range from network news operations and large production companies to freelancers and student producers.
Three video projects garnered the Award of Excellence, which the judges deemed to have been written, shot and edited in an exceptional manner. Vemma videos receiving this award include How to Get Paid with Vemma (in two categories) and This is Vemma. Just 12% of entries were honored with an Award of Excellence.
The Award of Distinction is given to projects that exceed industry standards. Vemma garnered three Awards of Distinction for YPR Cares Guatemala, Verve Healthy Energy Drink and Jenny McCarthy Renew Event videos.
The complete list of 2014 Videographer Awards winners is available at videoawards.com.
About Vemma
Founded in 2004 by BK Boreyko and his two sisters, Karen and Lauren, Vemma Nutrition Company enjoyed $100+ million growth last year as one of the premier industry leaders specializing in premium liquid nutrition. Every month, thousands of new customers experience the positive difference of the clinically studied Vemma Formula. The Vemma brands include the clinically studied Verve® healthy energy drink and Vemma Bod-e®, a weight loss line. Vemma is headquartered in Tempe, Arizona, and distributes its products through global affiliate marketing. For more information, please visit Vemma.com.