Vemma Video Wins Videographer Award
August 22, 2014
By Team Business For Home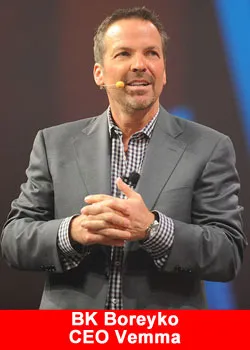 Vemma® has been presented with a prestigious 2014 Award of Excellence in the Company Overview category in the 18th Annual Videographer Awards.
"This is Vemma" tells the story of Vemma Nutrition Company, a health and wellness company that is "focused on providing innovative wellness products to enhance people's health, while assisting to create an incredible life for those that want it," explains Founder and CEO BK Boreyko. The "This is Vemma" video features BK Boreyko, the man behind the movement, who is passionate about helping people live the life they deserve.
Vemma has a two-part formula for success that resonates with people in more than 50 countries around the world. The first part is enhanced health through supplementation, and Vemma delivers the results people are looking for with our entire line of healthy beverages.
The second part is the sharing of Vemma products. I devote my advertising dollars, literally millions of dollars every month, to the people who choose to champion our mission and promote the Vemma brand. The real power of our success lies in the simplicity of our business model," says Boreyko.
Judging for the Videographer Awards was conducted by the Association of Marketing and Communication Professionals (AMCP), a prestigious evaluator of creative work which has been judging competitions for 20 years. The Award of Excellence is presented to those entries whose ability to capture the event or communicate the message is exceptional. The AMCP is one of the oldest and most respected awards programs in the marketing and communications field.
https://www.youtube.com/watch?v=1_SdMyUgsTk
A New Wave of Entrepreneurs
The Young Professional Revolution (YPR) is on a mission to develop the next generation of entrepreneurial leaders. Their goal is to empower young aspiring professionals, help them build a strong skill set that they will carry through life, and to help people of all ages be confident, influential and purpose-driven.
"Vemma is truly a platform to help people reach their goals and dreams in life, and not everyone has the same version of success," says Josh Noble, a young professional with Vemma.
Based in Tempe, Arizona, Vemma was founded in 2004. Over the last 10 years, Vemma has created a clinically studied, award-winning, single-formula product line based on the core elements of vitamins, essential minerals, real fruit mangosteen and rejuvenating aloe.
Product excellence from concept to consumption is what makes Vemma an industry leader specializing in ultra-premium liquid nutrition.
About Vemma
Founded in 2004 by BK Boreyko and his two sisters, Karen and Lauren, Vemma Nutrition Company enjoyed $100+ million growth last year as one of the premier industry leaders specializing in premium liquid nutrition. Every month, thousands of new customers experience the positive difference of the clinically studied Vemma Formula.
The Vemma brands include the clinically studied Verve healthy energy drink and Vemma Bod-e, a weight loss line. Vemma is headquartered in Tempe, Arizona and distributes its products through global affiliate marketing. For more information, please visit Vemma.com.