WorldVentures Foundation: Empowering Children In South Africa
August 13, 2014
By Nicole Dunkley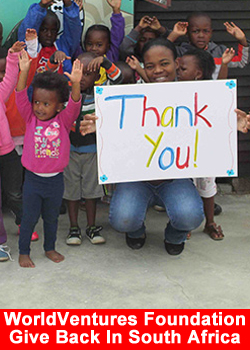 Consider this: a staggering 3.7 million children under the age of 18 are currently orphaned in South Africa due to HIV. For others, their families are unable to care for them financially. Couple that with malnutrition (currently at an all-time high in South Africa), and you have very critical issues that need to be brought to the forefront.
The WorldVentures Foundation™ (WVF), the philanthropic arm of WorldVentures, wanted to take an active role in helping those affected by these crises. So in February 2014, WVF collaborated with Botshabelo Community Development Trust for its first ever South African Service Day.
The event's purpose was clear—to help educate and nourish children in South Africa. With that in mind, both organizations teamed up with Sizanani Children's Home, an organization dedicated to developing, empowering and caring for people with disabilities, and Prettify Your Township, a project focusing on beautifying pre-schools in dilapidated conditions to encourage learning, to renovate a daycare building and a foster home, while developing a food garden in the community of Olievenhoutbosch, Gauteng to combat these issues and provide an effective solution.
In July, WorldVentures Foundation was back in South Africa for its second day of service, which was just as successful as the first. But this time, the focus was on improving malnutrition throughout the country. WVF partnered with Food & Trees for Africa, the first South African social and environmental enterprise, realizing the essential need for sustainable development toward healthy people on a healthier planet.
Together, volunteers planted herbs, vegetables and other foods in a garden at the Blue Eagle High School (formally named Cosmo City Secondary School). The garden has gone on to feed local families, and provide produce to sell to surrounding communities. To make an even bigger impact, sales profits went right back into the garden to ensure its sustainability.
Giving back isn't as hard as you may think. It's all a team effort, with everyone sharing the same goal. In just four years, WorldVentures Foundation has impacted thousands of underserved children and communities worldwide. And there's much more work to do—in South Africa, and even your local community.
About WorldVentures:
WorldVentures is the leading international direct seller of vacation club memberships. WorldVentures is on a mission to help people achieve more fun, freedom and fulfillment in their lives, and to provide its members with premium vacations at reduced prices.
WorldVentures combines the power of the Internet with the strength of the direct-selling industry to market its DreamTrips Memberships. WorldVentures is a privately held company based in Plano, Texas, with active Representatives and members in 28 markets.