Younique Announces Chief Scientific Officer, Mukhtar Siddiqui
August 13, 2014
By Tina Williams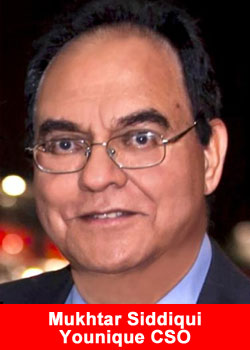 Younique Products, a cosmetics direct-sales company dedicated to motivating and empowering women, announced the addition of their Chief Scientific Officer, Mukhtar Siddiqui. Mukhtar will lead all the Research & Development efforts at Younique and manage their internal Laboratory, overseeing all the formulations, testing, processing, manufacturing, and quality.
Mukhtar is an academic, scientist, chemist, and formulator with a total of 32 years of hands-on experience in the Health and Beauty industry. He has researched, developed, formulated, and launched hundreds of products globally, working with brands such as Almay, Playtex, Max Factor, Jhirmack, Johnson & Johnson, AirWick, LaCoupe, and Shaklee.
Mukhtar is a well-known and respected member of the international Health & Beauty community, and is a member of the Society of Cosmetic Chemists and of the American Institute of Chemical Engineers. He also holds a Master of Science in Organic Chemistry from University of Sind.
He currently has six US patents in the cosmetics, skin care, and hair care categories. His expertise in formulating with the finest ingredients and most cutting-edge technologies led him to bring to the market some of the most successful, environmental-friendly, and high-performance products worldwide. About his role at Younique Products, Mukhtar says, Uniting science and nature will be our focus at Younique as we continue to select the finest, safest, cleanest, and most effective cosmetics ingredients.
About Younique
Younique is based in Lehi, Utah, and was founded less than two years ago by a brother-sister team, Derek Maxfield and Melanie Huscroft. Derek is a proven entrepreneur, already having founded a company previously that was on the Inc. 500 fastest-growing private companies in America for two consecutive years. In 2009, his company, NetSteps, placed 11th in the nation and 1st in Utah, as the fastest growing software company.
Derek was recognized by Utah Valley Business Q Magazine twice as #1 and #8 overall for the area's fastest growing companies. Melanie has a background in Advertising Art, Marketing, Purchasing, and Sales. Melanie's passion, creativity, education and experience in Marketing and Sales, and flair for fashion and beauty make for the perfect partnership to team up with her brother, Derek.