Zija International Reveals Two New Product Divisions
August 27, 2014
By Nicole Dunkley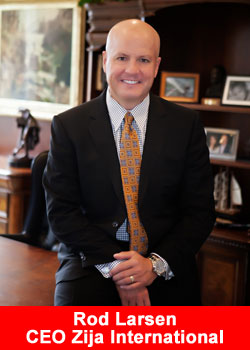 Zija International recently revealed the names of two new product divisions that will officially be launched this September at the company's Zija Summit 2014 International Convention in Salt Lake City, Utah.
The announcement was made live during the monthly "Zija Nation Call," the biggest call in the company's history. Rod Larsen, Zija President and CEO, said the following: "This announcement is years in the making and is going to take our worldwide product offering and business opportunity to the next level."
Zija International began by making history with a cutting-edge line of high-quality, Moringa-based nutritional products. Moringa oleifera, nicknamed nature's miracle tree, is packed with 90+ vitamins, minerals, vital proteins, antioxidants, omega oils, and other benefits.
Zija Core Nutritionals includes our existing products—SmartMix, SuperMix, XM+ Energy Mix, XM3 Energy Drink, PR1ME90, Daily Tea, Premium Tea, XMam, XMpm, XMburn, and the GenM skin care line. This division was designed to give individuals the nutritional base needed to keep their body healthy and happy.
The two new product divisions revealed include:
AMÉO Essential Oils
Zija is constantly searching for the greatest that nature has to offer and recognizes the significance of living a healthy and active lifestyle as well as using natural products to eradicate everyday problems. While our core nutritional products have revolutionized the health and wellness world, we're taking it to a whole new level—one drop at a time—with Améo Essential Oils.
We set out to create a product line that will help you continue to feel your best, look your best, be your best, and have the energy and vitality needed to enjoy your life; this new life begins with the numerous benefits of using Améo Essential Oils. Because these luxuriously pure products are extracted from nature's most generous trees, herbs, plants, seeds and fruits, we're proud to share them with you and those you care about.
RIPSTIX Fitness Supplements
In a world that recognizes the importance of living an active lifestyle more than ever before, we set out to create the best workout products for all types of athletes and fitness junkies. We also wanted these new products to build upon the four pillars of Zija's Life Unlimited mantra and company culture—health and nutrition, active lifestyle, financial freedom, and personal development.
Ripstix have been carefully formulated to help you keep your drive alive with the energy and nutrients needed before, during and after—long after—your workout. Whether you stay active by pounding the pavement, helping your team to the top, refining your downward-facing dog, or setting your personal record on a lift, it's time to Power Your Fitness with Ripstix!
About Zija International
Although the company has been in business for only a few short years, it has experienced impressive growth year after year and been recognized as one of the fastest-growing and top-revenue companies by Inc. Magazine, Direct Selling News, and Utah Valley Magazine, to name a few.
Zija International was founded by Ken Brailsford and is led by President and CEO Rodney Larsen. The company's focus is on helping its distributors, customers and employees live "Life Unlimited" through financial freedom, personal development, improved health and nutrition, and living an active lifestyle.