Zija To Launch Two New Product Divisions at Upcoming 2014 Convention
August 5, 2014
By Nicole Dunkley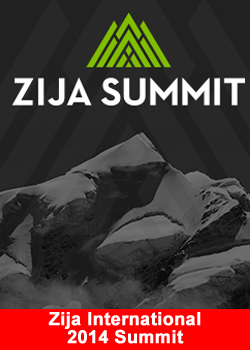 Thousands of Zija enthusiasts across the globe will come together this September for the company's international convention being held in Salt Lake City, Utah. Not only will September 25-27 be an exciting time for Zija's existing employees and Distributors, but millions will soon also be able to experience two new exciting product divisions being launched at Summit 2014: essential oils and sports and fitness nutrition products.
The life-changing and motivational weekend will also include huge prize giveaways, the unveiling of new promotions and tools, personal development speakers and breakout sessions, tours of Zija Corporate Headquarters including the company's new state-of-the-art processing and shipping facility, training sessions with top field leaders, and an on-site store and expo.
Attendees will also receive invaluable product and business training from Zija corporate leaders including Founder, Ken Brailsford, President and CEO, Rod Larsen, Vice President of Sales, Ryan Palmer, Vice President of Research and Development, Dr. Joshua Plant, and Director of North American Sales, Jarom Dastrup.
Dan Clark, a world-renowned inspirational speaker and leadership trainer, will be Zija Summit's featured Keynote speaker. Clark is the CEO of an international, high-performance consulting firm, a university professor, an award-winning athlete who fought his way back from a paralyzing injury that cut his football career short, a New York Times Bestselling Author, a gold record songwriter/recording artist, and one of the most sought after inspiration speakers in the world. In 2005, Clark was inducted into the National Speakers Hall of Fame and was named one of the Top Ten Speakers in the World by Achievers North America and Achievers Europe.
Zija Summit 2014 attendees will be able to see first-hand why so many are so passionate about Zija International's life-changing products and business opportunity. Zija also recently announced that their lower registration price of $169 has been extended until August 15th. Those interested in registering or obtaining more information can do so at zijasummit.com.
To get a glimpse of what Zija Summit 2013 had to offer, view a summary video by clicking HERE.
About Zija International
Although Zija International has been in business for only a few short years, it has experienced impressive growth year after year and been recognized as one of the fastest-growing and top-revenue companies by Inc. Magazine, Direct Selling News, Utah Business Magazine, and Utah Valley Magazine, to name a few.