Amway Thailand Eyes BT17 Billion In Sales
September 1, 2014
By Tina Williams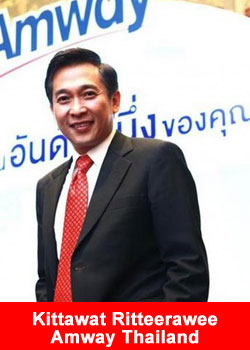 Amway managing director Kittawat Ritteerawee said that the company had seen positive economic signs, including the return of consumer spending in the past few months.
He said another positive sign was the higher number of people applying to be Amway independent business owners during the past couple of months after a decline in the number early this year.
Early this year Amway's main customers, those with high purchasing power and high brand loyalty, were not in a spending mood due to the economic and political situation.
But despite that, Kittawat said Amway took only a slight drop in terms of its main products including supplementary foods.
He added that if there were no major issues for the remainder of the year, such as major flooding, the company believed it could achieve this year's revenue target while the political stability continued.
The company also planned to launch promising new products and promotional campaigns in an attempt to boost sales in the second half of the year.
Pakapan Leevutinan, the new president of the Thai Direct Selling Association, estimated that the direct-sales industry this year would grow between 5% and 7% to around Bt70 billion, thanks to the economic recovery and the improving political atmosphere.
She said that the industry could grow 10% next year if these favourable conditions continued and the new government was set up.
originally reported by nationmultimedia.com