Avon CFO Resigns
September 9, 2014
By Tina Williams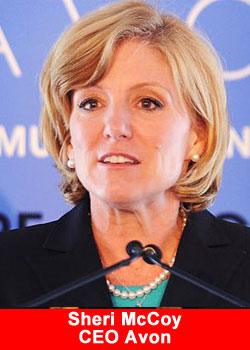 The Wall Street Journal reported early yesterday morning that Avon CFO, Kimberly Ross, has resigned.
Avon Products Inc. announced Monday that Chief Financial Officer Kimberly Ross is resigning from the embattled beauty-products company, effective early next month, to become CFO at oil-field services company Baker Hughes Inc.
Martin Craighead, Baker Hughes chairman and chief executive, stated that Ms. Ross's extensive record of accomplishments spans several industries and is a testament to her effective partnering with operational leaders in various geographies and business environments.
She begins her new role at Baker Hughes effective Oct. 22.
Avon appointed Avon's corporate controller, Robert Loughran, to serve as acting CFO as the door-to-door seller of makeup and consumer products searches for a permanent successor. Mr. Loughran is a 10-year Avon veteran and was appointed vice president and controller in 2012.
Avon Chief Executive Sheri McCoy said Ms. Ross has been a strong leader for Avon over the past three years. I appreciate her partnership as we've worked together on Avon's turnaround journey. We wish her all the best in her new role.
Ms. Ross stated that she is proud of the work accomplished by the Avon team. She also stated that she thinks Avon is laying the right foundation for the future, and I look forward to working with Bob and Sheri during this transition.
During July, Avon reported another quarter of lackluster sales and lower profits, but executives pointed to signs of a sales turnaround in a key market as evidence it can pull out of a yearslong slump.
The company has faced deep investor dissatisfaction in recent years as it failed to turn around a string of poor results and faced a federal probe into allegations of bribery of officials overseas.
Avon earlier this year reached an agreement with U.S. federal regulators to settle a long-running bribery probe into its conduct in China, a move that required the company to pay $135 million in fines and other costs.