Avon Relaunches Marketing Plan And Focuses On U.S.
September 24, 2014
By Tina Williams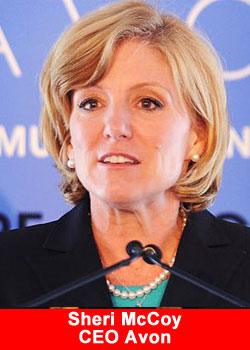 In an exclusive interview with Fortune magazine, CEO of Avon talks about a marketing plan they hope will revive their sales.
Avon Products is betting heavily on an e-commerce and social-selling relaunch to get Avon back to profitability next year. The world's largest direct seller of beauty products urgently needs to stanch an exodus of its famous Avon Ladies that has led both the size of salesforce and revenue in North America to fall by half in only a few years, and lose nearly $150 million.
Avon CEO Sheri McCoy (No. 27 on our Most Powerful Women list) sat down with Fortune for an exclusive interview, explaining why she thinks this initiative is so important and why she remains committed to the U.S. market.
Why the U.S. remains a priority even as some industry and Wall Street analysts say Avon should pack it in in its home market:
"To not compete in one of the largest markets in the world doesn't make sense."

"It's the founding country of the brand- there are a lot of roots to the brand."

"It's easy to say, let's walk away from it—I don't think it's the right thing to do."
"Beauty and direct-selling in the U.S. are both growing: so it's attractive from that standpoint."
Why the digital strategy is important to Avon's hoped-for U.S. revival:
"The digital strategy helps reps, helps Avon talk to consumers directly. It helps build the brand."
Why direct selling of beauty products is still relevant in this day and age:
"There is a competitive advantage: when we train the representative, she can then go out and talk about the products to her customers—again we know word-of-mouth is important in influencing women."

Does Avon need to get back up to a U.S. salesforce of 600,000 representatives to return to peak sales volumes there? (There are about 300,000 reps now.)
"I'm not sure we get up all the way up to the number of past—it's more important to us to have a representative base that's committed, that's stable, and that we continue to bring new people in and that they see the earnings opportunity, so we don't have the level of churn."
On how the digital strategy is important to drawing in younger shoppers:
"The products are great. The challenge is that we need to make sure we get it into their hands, to be getting out onto social media. Once we convert some younger women, they are going to go to their social circle. It's a very social business."