Beachbody's Coaches Network Expands Into Canada
September 4, 2014
By Tina Williams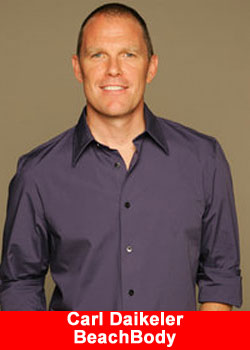 Beachbody, the pioneering fitness company behind products such as P90X®, 21 Day Fix® and Focus T25®, announced today the expansion of its Team Beachbody Coach Network into Canada.
This multi-level marketing division of parent Beachbody, LLC, with over 200,000 independent distributors in the U.S. (called accountability Coaches), will continue its ongoing mission in the fight to end the trend of obesity in North America by also empowering Canadian consumers with proven programs to achieve their weight loss, fitness and health goals.
According to U.S. News & World Report, obesity rates in Canada have more than tripled in less than three decades. The report estimates one in five Canadians will be obese by 2019, making this expansion into Canada timelier than ever.
Team Beachbody will offer Canada's 35-million residents cutting-edge fitness products, groundbreaking nutritional supplements like Shakeology® along with a robust system of peer support, plus prizes and rewards for weight loss success. This potent formula has proven to help millions of people succeed in achieving truly life-changing goals.
We are proud of the positive impact Beachbody has made on millions of Americans and Canadians over the last 16 years of marketing our programs on TV. The real game-changer is the entire program including support which we can offer through our Team Beachbody network, said Carl Daikeler, CEO of Beachbody, LLC.

Expanding that model into Canada is an extremely exciting step in building a positive force of people-helping-people overcome obesity and the consequential lifestyle diseases.
As the leader in direct-response marketing on television (infomercials) since 2008, Beachbody's brands are already well established in Canada, and the company believes the addition of Team Beachbody will be a spark to attract entrepreneurs who want to create financial freedom for themselves while also helping people get healthy, the same way it has in the U.S. As of August 28th, 2014, Canadians can now join this movement, which has grown over 50% per year since its launch, to become Independent Team Beachbody Coaches representing Beachbody's best-in-class weight loss and fitness programs.
The Canadian market provides an ideal platform to significantly expand the Coaches Network, said Arnauld Nakaha, Beachbody's Senior Director of Regional Sales. Canadians love Beachbody and share a common bond with the United States – the fight against obesity. But more important, Canada embodies a deeply caring and highly social culture, which is ideal for a grassroots opportunity like Team Beachbody.
About Beachbody, LLC
Founded in 1998 by Carl Daikeler and Jon Congdon, Beachbody, LLC operates Beachbody.com and TeamBeachbody.com. The Santa Monica, California–based company is the creator of the nation's most popular fitness and weight-loss solutions including P90X3®, INSANITY®, FOCUS T25®, Brazil Butt Lift®, 21 Day Fix®, PiYo® and Hip Hop Abs®, among many others.
Beachbody programs combine challenging DVD-based workouts with easy-to-follow diet guidelines, nutritional supplements, including its breakthrough clinically proven health and weight loss shake called Shakeology® (aka the Healthiest Meal of the Day®), and the Beachbody Ultimate Reset® , a clinically proven 21-day cleanse, plus an unparalleled customer service and peer-support system.
In fact, Beachbody has expanded this support system through TeamBeachbody.com, which includes a network of more than 200,000 independent Coach distributors as well as a dynamic online support and fitness community. The company's catalogue also includes the popular skin care system, Derm Exclusive® which provides a healthy alternative to in-office anti-aging procedures. The corporate mission is to help people achieve their goals and enjoy healthy, fulfilling lives.