Dave and Faraday Manning – Global One Entertainment Top Earners Interview
September 18, 2014
By Team Business For Home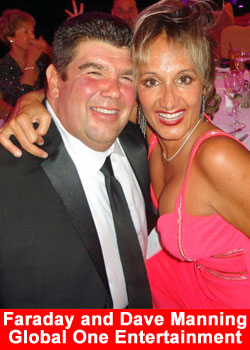 Faraday Hosseinipour and David Manning from Jacksonville, Florida, USA are one of the top earners in Global One Entertainment (G1E).
G1E is a direct sales company which has monetized the most exciting global trends and digital online entertainment products such as Fantasy Sports, Online Games and Social Media Technology.
Faraday and Dave have a team of approx.18,000 members and have earned along with their partners Richard and Susan Anzalone about $2.3 million in 1 year. Faraday and David have 5 millionaires created on their team and 6 members are over $500,000. More then 50 members are over $100,000. All in 1 year.
Faraday Hosseinipour and David Manning met each other 18 years ago on a 3 way call. That one chance meeting on the phone which made them partners in business and later in life would transform both their futures.
Ted Nuyten had the honor to interview Faraday and Dave.
Faraday, how did your start your MLM?
I first got involved with network marketing in the 1990's. I was fresh out of college, after majoring in Broadcast Journalism at USC and working as an Intern at Entertainment Tonight when I was first introduced to network marketing. I caught the dream and plunged into the network marketing industry full-time right away.
My parents were very upset. They had the hopes that I would end up being a doctor, lawyer or news anchor. They didn't trust network marketing at all. Despite the lack of my family's support, I spent the next 5 years pursuing her dreams. However I experienced 5 years of failure before I started to experience significant success and got my first $10,000 month. So, Never Quit!
Faraday Hosseinipour, David Manning, and their partners Richard & Susan Taylor Anzalon
David, you had a different path?
Yes, after dropping out of high school, I started my own general contractor business. I was making about $3,000 a month with this business, but it was barely enough to get by on.
One day, I responded to an ad about making money from home. The man said I could show him a way to make more money from home than he did with his general contractor business. I went all in and worked as hard as I could at it. After my first month, I made $5,300. Then, I went on to make over $10,000 in my second month! Needless to say, I was more than convinced.
What is the secret to your success?
The Secret to Our Success in unrelenting pursuit of our dream with consistent and persistent daily action, laser focus and vision and refusal to quit. We literally failed our way to the top by getting more nos than anyone but because of so many more nos we also got many more yeses than anyone else. We stay inspired and motivated by focusing on the success of our team first.
Dave and Faraday Manning – Team Leaders
| | | | |
| --- | --- | --- | --- |
| | | | |
| Richard & Susan Anzalone | Marie Saint-Jean | Jason Syn | Tony Adimey |
| | | | |
| Dennis Dvorin | Boris Pelah | Rick Thompson | Sree Sreedharan |
| | | | |
| Nilo Diaz | Elisha & Lyndie Jancik | Karen Officer | Linda Powell |
| | | | |
| Mandy Elliott | Dan Sylvester | Suzanne Kwong | Patricia Platt |
| | | | |
| Catrina Dugger | Will & Sonia Kelleher | Bob Klutts | Theresa Puglia |
| | | | |
We heard you are an awesome recruiter, how come?
Thank you Ted. We believe we have been successful at recruiting because we have 100% belief and conviction which is essential. We've combined our rock solid belief with basic social media outreach such as google hangouts combined with old school work ethic. We live with our headsets on and we actually love talking to people.
What is the key to duplication and building Leaders?
When I was first introduced to this industry I was shown a "proven plan of action" which involved daily exposure activities but starts with first identifying your new distributors why and then identifying their goals so you can create a realistic game-plan to help them get there.
You can only make emerging leaders accountable with daily fig and gauges by making them want to be accountable. Duplication has become easier than ever before by offering tools such as google hangouts that people can simply plug their prospects into. Leaders develop by first being becoming great followers.
What are the unique selling points of Global 1 Entertainment?
Global one entertainment offers an opportunity to get in front of major Global Trends in Digital Entertainment that have never been done in network marketing . Simply, We get paid when others play.
We all already use social media. We all play games. We play online sports and fantasy football. We just don't get paid by doing them. Global one entertainment believes in giving the internet back to the people and paying us for doing the things we are all already doing online.
Fantasy Sports is a 70 Billion dollar Industry Worldwide and has created a national frenzy with 35 million American Playing. Even President Obama plays Fantasy Football. We are the first company to enter the exciting fantasy sports industry and offer a way where you can get paid when others play.
Do you have a power tip for a newbie in the industry?
My tip for a new person is find your why, find your resolve and never quit. Find an upline mentor who is already successful and model their success. Use the strength of your upline leader while you learn and develop the skills you need to be successful. Use Your Upline For 3 Way Calls and 3rd Party credibility. Action Trumps Everything.
Be Excited. Ignorance on Fire is Better than Knowledge on ice. Be Present in Every Events and Talk to 5 New people a Day! Consistency and Persistency. Persist until you Succeed.
Is personal development important for you and your leaders?
Yes! Every Day Strive to be Better. Learn From Doing. Once you know everything you can quit. No matter how much you have achieved you have room for more growing and developing.
What are your plan and goals for the future?
Our goals are to change the lives of 1000 families this year by helping them reach $10,000 a month. That is the income level that will make a substantial difference in most people's lives. We have a lot of work ahead.
Our goal is putting our focus on the team and by helping them achieve their goals we automatically achieve ours. Creating new meaningful relationships, spending quality time with each other, our families, our pets and our teams on incredible dream trips our company offers. To stay humble, stay greatful and appreciate those around us 🙂
Contact details Faraday and David:
Mobile Faraday: 904-537-1799
Mobile Dave: 904-777-5776
Skype Faraday: faraday6859
Skype Dave: fxdave