FDA Issues Warning Letters To Reprimand False Claims
September 25, 2014
By Team Business For Home International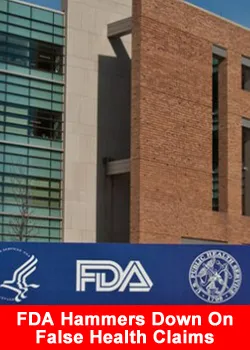 Young Living and doTERRA distributors were reprimanded after the Food and Drug Administration FDA issued warning statements via overnight delivery to CEO Gary Young and David Stirling. Young Living and doTERRA both use independent distributors as a sales-force.
The majority of complaints the FDA issued in the warning letters involved the way some independent distributors marketed the companies' products. Primarily, the FDA was concerned with Young Living and doTERRA consultants' online marketing material for the brands' essential oils.
According to FDA regulations, neither dietary supplements nor essential oils are allowed to be marketed by the company that sells them in such a way that it appears as though the products can prevent, cure or treat any disease. If a company does market in that manner, the product is considered a drug by the FDA. If a product is a drug, it must be approved by the FDA. So, any product marketed to cure, treat or prevent a disease, that is not already an FDA approved drug, is considered an illegal, unapproved drug by the FDA.
The FDA found that Young Living essential oils were marketed for "viral infections (including ebola), Parkinson's disease, autism, diabetes, hypertension, cancer, insomnia, heart disease, post-traumatic stress disorder (PTSD), dementia, and multiple sclerosis." Meanwhile, doTERRA consultants made claims that their therapeutic grade oils could treat "viral infections (including ebola), bacterial infections, cancer, brain injury, autism, endometriosis, Grave's Disease, Alzheimer's Disease, tumor reduction, [and] ADD/ADHD."
Given these marketing claims, the FDA sent out the warning letters allowing the companies 15 days to rectify the illegal marketing and respond before facing any punishment.
A spokesman for Young Living said company officials are "cooperating fully with the FDA regarding its inquiry." Young Living distributors, according to the statement, are instructed about marketing regulations. "We have already contacted each of the Members cited in the FDA letter to help get them into compliance."
Young Living's CEO was reprimanded for more than just consultants' claims though. Young Living's own website made claims that promoted products in such a way that the federal government would classify the products as drugs, according to the FDA.
According to Organic Home Health, while some doTERRA consultants claim their products are FDA approved as therapeutic, the company itself does not officially state that. The FDA does not actually approve dietary supplements or essential oils, according to the administration, and there is not even an actual regulatory definition for "essential oils."
"We apologize if one of our consultants has mislead you in anyway (sic)," the alleged email read. "All of our oils are FDA approved as being Certified Pure Therapeutic Grade (CPTG)." CPTG stamps, as d?TERRA's website clarifies, are actually registered trademarks (as word marks) belonging to DoTERRA Holdings.
"Although there are good essential oils available to consumers, many products claiming to be essential oils often are not pure aromatic extracts and often contain fillers and non-aromatic compounds." Mark Wolfert, General Counsel for d0TERRA at that time explained in the comments area of the Winged Seed article. "The name doTERRA and CPTG registered trademark represent our guarantee of 100% pure essential oil extracts and accurate product labeling."
Young Living and doTERRA consultants are expected by their respective company rules to practice marketing in ways that to not violate FDA or FTC regulations.