Global Wealth Trade Gaining Momentum In The USA
September 4, 2014
By Team Business For Home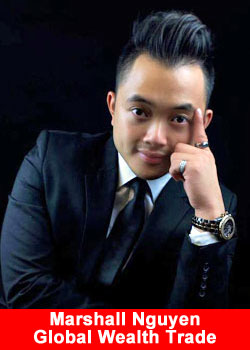 Marshall Nguyen is the youngest and first United States Ambassador for the Canadian direct sales company & luxury designer, Global Wealth Trade (GWT).
This award winning generation Y direct seller started his network marketing profession at age 20.
It was a rough landing as the company he launched his new MLM profession with was already a household name and after 3 years of building passionately and seeing limited results, Marshall decided to end his MLM career. Marshall:
"My first company was a good company with good products, however what I found after three years of total commitment was that beyond good products and compensation plan, TIMING AND MARKET SATURATION IS EVERYTHING IN MLM". Its hard to promote an MLM/Direct Sales company that is already a house hold name and unlike traditional businesses, house hold name and branded companies are not an asset as it makes it very difficult to get candidates interested to even look at your opportunity.
Further with over 2000+ MLM companies now selling the "latest and greatest " health products, the market is highly competitive which is the reason so many struggle in this industry to gain customers and new sellers".
However the love of the MLM industry and its potential rewards kept Marshall looking closely for the next 15 months. He started an extensive research campaign on the industry and the companies that were offering Direct Sales Opportunities and after an exhausting research, he found Global Wealth Trade & FERI Fashion House.
"I was so excited when I first saw GWT because it didn't resemble the industry status quo opportunity at all. The common response from the candidates I show my GWT opportunity to is "IS THIS REALLY AN MLM OPPORTUNITY?" because it is so upscale and glamorous".
Marshall re-launched his MLM career with GWT and within a year he became GWT's youngest Ambassador in USA at age 25.
"The experience I gained in my first company became very valuable because it provided me with a point of reference to be able to see the clear advantages of GWT over the status quo MLM opportunities. It also made me realize that my lack of success in the last company was not due to my efforts, it was the company comp plan limitations and restriction".
Ted Nuyten had the honor to interview Marshall Nguyen.
Ted: First tell our readers about your first run at MLM because too often our work force will give up on the industry and "QUIT" after one unsuccessful attempt.
Sure Ted, I discovered direct sales/MLM through one of my childhood best friends Ozzy Dris at the University of Minnesota. I was around 20 years old then and I can vividly remember the day he called me and said, "Bro!! We are about to be RICH!" Of course with my personality I didn't hesitate to say, "Brother, I don't know what you're doing but I am in!"
My first business opportunity experience involved meeting and learning about the 4 cash flow quadrants, and learning the art of leveraging my time. I built that Health & Wellness Company for about 3 years and worked very hard to QUALIFY and try to REQUALIFY every month for my commissions and bonuses.
It was extremely tough and felt like a revolving door with my distributors coming in and leaving, it seemed we had no retention at all. The worse feelings came to surface when none of my team members were making money, nor were they even using the products, which eventually expired, in their basement. When I realized this, I stopped the bleeding instantly because I knew that scenario didn't feel right and it wasn't ethical to continue to promote something that I knew could not lead them to success. In GWT our culture is
"Give enough people what they want and you will get what you want".
I respected and loved my team way too much to pursue something that I came to find out didn't have their best interest in the long run. As a result, I took a step back but I didn't let my past unpleasant experience ruin my overall view of the network marketing industry. I still had hopes and I was in love with the concept of network marketing.
Marshal Nguyen Ambitious Movement Team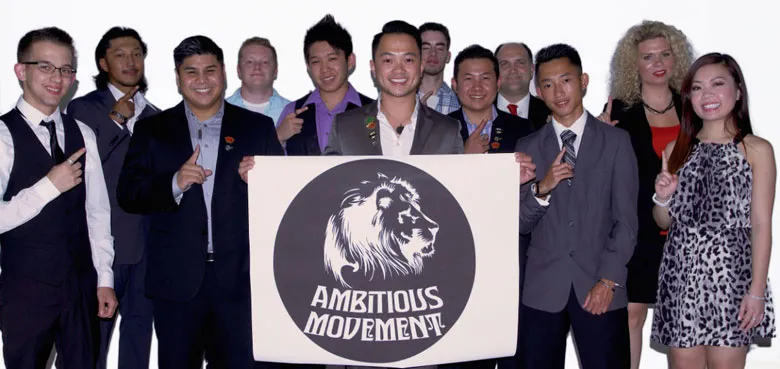 Marshall, What was your opinion about the Direct Selling Industry before you got involved?
Honest truth, I didn't know anything about this industry but when I saw it for the first time, it made a lot of sense to me. I knew that JOB leads to a very tough life AT BEST and traditional businesses are RISKY with no lifestyle. MLM is the natural choice that offers that true light at the end of the tunnel for financial and time freedom. I recommend a chapter from the Forensic Networker called "The Tripod Of Success" where you realize clearly the advantages of MLM over jobs and traditional businesses.
You mentioned, you did 15 months of research within the industry, why did you choose Global Wealth Trade?
One thing I learned from business school is that you should pursue something that has high profit margins, big market share and little to no competition (if possible) in order to have a higher chance of success. GWT made so much sense to me because within our direct sales profession, there isn't another high-end luxury designer to compete against, something health and wellness and telecom companies have to deal with everyday. To add to that, I have so much pride promoting luxury lines of products that are in the same category and beyond luxury benchmarks of the world such as Gucci, Louis Vuitton, Cartier, Tiffany, Hermes, etc. This is a glamorous business to be in, after all who doesn't like a red carpet business :)).
GWT has a reputation to be MLM's prestige company due to is luxury products and over all business model. This must make some people think if the products are affordable for an MLM business, can you clarify this misconception for our readers?
Sure Ted, to quote our Senior Vice President and chief designer Sanaz Hooman,
"GWT is all about affordable luxuries"
FERI Fashion House is the most complete and diverse luxury designer in the world. We basically cover all price points from Super rich luxury to economical fashion. They are:
POSH fashion jewelry and goods starting from $18.

FERI luxury lines have several price points from mid range to complete with Michael Kors, Guess, Coach etc to high end to complete with Gucci, LV, Versace etc.

FERI MOSH Prestige lines are truly in a class of their own but if we have to fit it in a category it will be Cartier, Tiffany, Hermes etc.
So yes even though we have $20,000 hand bags in FERI MOSH Exotics and $750,000 prestige FERI MOSH 21 Karat jewels and $140,000 FERI President Time pieces that 4 country Presidents are currently wearing, these super luxuries are not the bulk of our business. They are merely our "show off" pieces to show the world that we are the best and they lend huge credibility to 99% of the goods we do sell that are priced from $18 to a few hundred dollars.
My team and their clients are feasting on our economical fashion lines because it makes it affordable for anyone to own their FERI and look great. Imagine if Mercedes Benz made cars for under $10,000 wouldn't everyone drive one? Of course they would but Mercedes doesn't do that but FERI as a super luxury, super exclusive designer to over 300 Hollywood celebrities who offers over 500 luxury goods and jewels for LESS THAN $200. Everyone can now look designer chic with their FERI or FERI designed goods and jewels starting from $18.
The low price point is the main reason why GWT is operating in 86 countries today making us the fastest expanding direct sales company in history that sells tangible goods. GWT is the ONLY Direct Sales Company that has become a huge hit in traditionally none MLM countries such as the Caribbean, Africa, Asia, eastern Europe and Middle East.
GWT is the second direct sales company I have been with. As mentioned before, the first one was a big player within the Health & Wellness industry, but the restrictions they had in their compensation plan (called RANKS) & the stiff competition from other health and wellness companies made it a "lottery business" where 1 in a million will become wealthy.
In retrospect, I would say that one more thing I love about GWT is there are no restrictions on the way you earn income with trick qualifications and requalification and smoke and mirror incentives. My last company offered "car payment" program like every other company which is more of a liability than incentive. GWT offers true LUXURY CLUB and EXOTIC CLUB where the car only requires ONE qualification and not monthly. Our exotic vacations are also INSANE far from the status quo MLM vacation incentives, they are truly exotic. See blow link for the class of 2014 qualifiers, it will drive you wild.
How did you get involved in Global Wealth Trade?
I read a businessforhome.org article that our incredible CEO & Founder Ramin Mesgarlou (AKA The Forensic Networker) was featured in, called "The Forensic Networker". Being recognized as the world's top MLM compensation plan expert, Ramin's articled open my eyes in terms of my level of understanding of our industry and compensation plans. I then got connected with Ambassador Lior Skaler and Ambassador Maria Ghaderi who answered all my questions. I have always surrounded myself with high profile entrepreneurs in Minneapolis so I asked one of them for their opinion on the GWT compensation plan. A successful entrepreneur who is not even in the MLM industry said that "GWT looks more like a prestigious franchise opportunity than a MLM because it has no RANKS in their comp plan and market luxurious products". I was so excited to get these types of feedbacks and it reconfirmed over and over that the GWT opportunity is being recognized to be completely different to the general public which makes my business much easier to promote.
\Marshall, what inspired you in Network Marketing?
What inspires me in network marketing is the fact that it's a platform that gives the average person an opportunity to reach GREATNESS. If doesn't matter of your age, race, sex, religion, or background, you have an opportunity to reach your full potential and nobody can judge you. I have a lot of young Luxury Consultants part of my team that came from nothing and now have something because of this opportunity.
Why do you think GWT is a magnet for GEN-Y and what is your advice for young people reading this article?
Let's be real TED, we are the future and young people have style 🙂
But being young sometimes can be challenging in business because older folks don't take them seriously, especially in Direct Sales. In my team there are two key factors;
1- Personal development and putting in the necessary work with the right mentality, success comes knocking on their door.
2- Our VISUAL designer goods and jewels, it's much easier to get people's attention than a product that requires explanation and a 30 – 90 day test trial. People get their INSTANT GRATIFICATION the second they see our gorgeous FERI designer goods we are wearing daily and they are in. In my previous health company I had to wait 30-90 days for the client to try the products to see even if they liked it before we can talk business. These factors translate in to quick cash for young people and eliminates "SUN BLOCKS" (The Forensic Networker terminology for negative people).
Do you have a mentor, do you think a mentor is important?
Absolutely, and it's very important. Everyone needs a mentor with any type of field you are in.
They say that your net worth is your network. My network is filled with qualified mentors. Mentors have experience in the road you are taking. They help you weave through the landmines, which in turns means that you are able to get to your destination much quicker.
Thank you Ramin Mesgarlou, Sanaz Hooman, Maria Ghaderi, Lior Skaler, Sherry Zhao, and Rene Liaw for your endless support since day one, my team and I will forever be grateful.
What are the biggest reasons that you attribute the success that you, and your team have had in your business?
There are so many reasons.
My incredible MY5 support (direct uplines) that are FULL TIME Ambassadors, five and six figure monthly income earners.

Ramin Mesgarlou has been able to cultivate a "No Members Left Behind" culture which has been instrumental in how the business operates. I had immediate support from the top leaders/earners when I came into the business. THIS MADE ME FEEL IMPORTANT and it was great knowing that they actually cared about my success. That is true leadership! We are a huge family here and we support each other.

GWT FREE FLOWING compensation plan, which looks more, like a franchise than a multi-level marketing company. There isn't any rank or levels that define a consultant's income and that's important because that gives everyone an EQUAL opportunity for success.

Our E/D (EARNING/DISTRIBUTOR) ratio is extremely high compared to DSA averages, which means that one does not need to have a big team to make a big check. My5 Support, Maria Ghaderi has 2,000 VDMs (Virtual Designer Malls) which generates her over $20,000/month in royalties. Rene Liaw has only 7,000 VDMs but he makes $100,000/month in royalties and the list goes on. The average person has a real opportunity for success here. It's doable. I am after true life time Royalty (residual) income and not one time bonuses. I care about true FREE car programs than monthly requalifications. What bothered me the most in my last company was that when my people worked so hard and achieved the next RANK, they got their bonus but the following month they didn't get any bonuses because they needed to REQUALIFY again and again monthly. This is not MLM, this is not residual, this is traditional business when you have to go to work forever to receive your income.
Ramin Mesgarlou's advanced Forensic Networker blueprint is a guaranteed success university, it has been the foundation of my GWT business and the success in my "Ambitious Movement Team". The blueprint is so generic that if you apply it to any type of business (network marketing, traditional business, etc.) you'll see results and become successful. If you are not applying the Forensic Networker, your success will take much longer!
Again, I have to reiterate, much of my success is because of the company I am with because we are not like any other and don't have to deal with the daily grinds and adversities other Health & Wellness, Skincare, and Telecommunication companies have to deal with. Market saturation is the main one because it is such an open industry that anyone can create a company over night from their bedroom. Not all are bad companies don't get me wrong, some have amazing products but it's way too competitive to try to compete with thousands of other companies and 100 million other distributors selling similar products. While I'm over here building my empire, I see other people's empire breaking down because of intense competition.
I highly recommend people seeing an eye opening video called "25 reasons why GWT products are the best in MLM". However I want to warn you that this video will shatter your paradigm because this video was conducted by the Forensic Networker himself who made millions in health and wellness MLM company for 12 years. There are actually 26 reasons in this video but the one that I want to share here is WANT products vs NEED products. GWT designer goods and jewels are visual and they are "WANT" products. I currently have a very young team, as young as 17 years old and we are able to build their credibility at a young age because of the visual appeal of our products. We have so many success stories where people have sold a watch off of their wrist for $3,000 cash and these types of stories are the norm now. You can be walking down the street and warrant an array of compliments just because of the appeal of what you have on. Fortunately the only place they can get products with such appeal is through our Luxury Consultants and their VDMs because the company is closed to the public.
https://www.youtube.com/watch?v=gkU-fQUqYnQ
Saving the best for last! I owe my success to my Ambitious Movement Team!
Honestly, they inspire me each and every day to become a better leader. I really couldn't do this without them. I am truly blessed and thankful for having them in my life. I always reiterate to my team that the key to success in this business is, one has to be coachable, and secondly you have to put in the right work. If you want to be successful, you have to have patience and you absolutely have to stay consistent and persistent. Huge shoutouts to Quang Nguyen, PaNhia Yang, Vilay Ly, Banh Mi, Sirlela Collins, Lonte Hill, Jimmii Vu, Kor Xiong, Damian & Michelle Reid, Sebastian Jimenez, Ronen Triffron, and many more!

The Fashion industry is a $1.2 Trillion dollar industry that is increasing year by year. To quote my friend and 19 year old Luxury Consultant Huy Bui;
"I look at it like a giant endless pizza (market share), even if I take the crumbs, I'll still be full, and I'll still be good.
Why do you think other people should join you?
Just by reading this far, you come to realize that I'm not an uneducated networker. If you are looking for a long-term business in a class of its own, this opportunity is for you. Our target is to help EVERYONE on my team improve their lifestyle and I can confidently say we can do that with our unprecedented FREE FLOWING compensation plan. What I want everyone to realize is "Ambitious Movement Team" is for people that are Ambitious in life and just want to win. We strive to provide an incredible community and culture for people that want to be a part of a positive movement.
Do you have a killer tip for a Network Marketing newbie?
Please do REAL due diligence. The reason why I say this is, sometimes we get so excited and follow the hype that our logic doesn't set in. This is one of the reasons why many people fail in our industry; because they don't break down numbers and use business logic and when things don't work out they start blaming other people or the industry, and this makes our industry look bad. You are in business, so therefore you have to think like a business man or woman.
Some questions that you have to ask yourself before partnering up with a company is:
1). Are the products low or high profit margin products?
-If it's low, you have sell a lot to make a good retail profit. If it's high, you can retail one product and earn a big profit. Which one makes better sense?
2). Does ranks and levels define my income?
-Do I have to qualify or re-qualify a rank each month to receive my FULL commissions and bonuses?
If this is a real business, why do I have to keep re-qualifying? Think about it…
3). Can this company be SAFE & RELIABLE?
-How is my competition with similar products? Am I going to lose half of my team every time a new juice, household products, and skin care comes along?
4). What is the earning/distributor ratio for residual income?
-How many people do I need to create X amount of dollars in RESIDUAL. In GWT we create millionaires with less than 2700 VDMs (Distributors) where it would take 70,000 + in any other company. Which one is easier to achieve?
5). Do I get paid to infinity or is it cut off at a certain level?
-A real business should always be paid to infinity; my team and I created the CV so we should get paid on all of it and not part of it…again think about it.
To end it all, one thing I want anybody who has interest in the network marketing industry to understand is that your target is to have your team make more money than you.
Thank you Businessforhome.org for this incredible opportunity, I am truly blessed and thank you everyone for taking your time to read this interview. You are the King or Queen to your Empire. Build it with love and care, and be mindful for the people who helped you along the way.
I love you ALL and if you are curious about launching your very own Virtual Designer Mall like I have aside from what you are doing, press on the link below and watch our exciting, red carpet business tour. gwtopportunity.com