Herbalife About To Settle Class-Action Lawsuit
September 15, 2014
By Tina Williams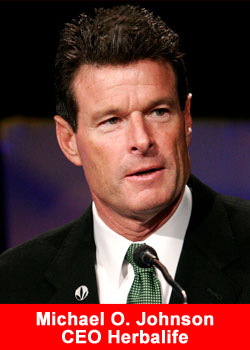 Herbalife is close to reaching a settlement with five former distributors who claim the controversial nutritional products company is running a pyramid scheme that has victimized thousands.
Lawyers for both sides told California federal judge Beverly O'Connell last month that "the parties have tentatively agreed on the principal terms of a settlement," according to court papers.
The parties asked for an extension of several pretrial filing dates, saying they needed more time to finalize a deal.
The suit was brought by California resident Dana Bostick in April 2013, less than four months after hedge fund activist Bill Ackman called Herbalife a fraud and placed a $1 billion short bet on the shares.
In June, four new plaintiffs joined the proposed class-action suit against the Los Angeles company.
Both sides declined to comment on the talks or the amount of the potential settlement under discussion.
Herbalife, which is under investigation by the Federal Trade Commission and other regulators, has denied the allegations and earlier said the suit had no merit.
But it now appears willing to accept a class-wide settlement to put a cap on its liability, sources told The Post.
The class would cover about 1.5 million people — those who joined in the US after 2009 to the present, excluding those who signed up last year after Herbalife instituted an arbitration clause in its distributor contracts.
Hispanic activists and critics who accuse the multilevel marketing company of preying on minorities and poor people expressed concern that the settlement would not be big enough to compensate the alleged victims.
The settlement "needs to be large enough to cover the full amount of losses of the potential class members," said Brent Wilkes, executive director of the League of United Latin American Citizens.
Three of the former distributors suing Herbalife said they each lost more than $10,000.
For each member of the class to get even $1,000, the settlement would have to be $1.5 billion.
Similar settlements involving controversial multilevel marketing companies have not been that generous.
Boies Schiller, the law firm representing Herbalife, was on the other side in a recent suit against Amway, which was settled in 2012 for about $20 million in cash for 3 million potential claimants — that is, less than $7 per person.
Originally reported by: The NY Post