Industry Leaders Julio Aquino and Edwin Ayala Join Talk Fusion
September 3, 2014
By Nicole Dunkley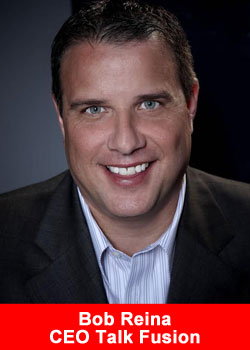 Talk Fusion's credibility, positioning and rapid growth rate have led world-renowned Hispanic industry leaders Edwin Ayala and Julio Aquino to join the company's esteemed community of Associates.
Ayala and Aquino look forward to bringing their 35 years of combined industry experience and a mutual passion for motivational training to the Talk Fusion team. Fluent in both English and Spanish, the duo intends to use their profound leadership skills and success stories to share Talk Fusion with the Latin American community.
Seven-figure earner and 20-year Network Marketing veteran Edwin Ayala has built a reputation as an efficient recruiter and marketing visionary. As a former member of Primerica's Board of Directors, Ayala spearheaded numerous marketing projects that led to the implementation of dynamic training strategies. In 2010, Ayala became the CEO and co-founder of a MLM company that brought in over 64,000 people within 60 days of prelaunch. However, inconsistency of business goals with the other partners led him to sell his share.
Discovering that Talk Fusion is a company founded on the same core principles as his own, Ayala has joined the team and is ready to start dream-building.
"My life purpose," Ayala said, "is educating and empowering people to maximize their potential and fulfill their dreams, via the best wealth creation vehicle ever known to mankind…Network Marketing!"
Joining Edwin Ayala at Talk Fusion is Top Field Producer Julio Aquino. During Aquino's 15-year career, he has mastered multiple trades of the home-based business industry. As a captivating motivational speaker, he specializes in live professional training and high-level consulting.
Experience has proven to Aquino that the key factor in a company's success is organization of leadership. "A rising tide lifts all boats," Aquino said. "Bringing people together is the main source of power and fortune."
Upon meeting Founder & CEO Bob Reina and Blue Diamond Cedric Penn at the Talk Fusion Corporate Office in Tampa, Fla., Ayala and Aquino immediately knew that this company is where their combined expertise and values will most efficiently harmonize. Talk Fusion's integrity, stability and admirable corporate culture are a direct result of Bob Reina himself, an enthusiastic leader with 20 years' experience in Relationship Marketing.
"When you meet Bob in person, you can see and feel his passion and heartfelt commitment to helping others change their lives," Ayala and Aquino agreed.
ABOUT TALK FUSION
A global leader in Video Communication Products, Talk Fusion is dedicated to changing lives through unmatched life-sharing solutions powered by proprietary, patent-pending video technology. Talk Fusion's innovative products are marketed person-to-person by independent Associates in more than 140 countries.
Founded in 2007 by CEO Bob Reina, Talk Fusion introduced the world's first Instant Pay Compensation Plan. Talk Fusion adheres to the highest ethical business practices and is a member of the prestigious Direct Selling Association (DSA). Reina firmly believes that "with great success comes greater responsibility."
Talk Fusion fosters a strong commitment to Giving Back to friends, family, communities, and animal charities across the world to create a positive global change.
Income Disclaimer:
Any earnings portrayed in any Talk Fusion marketing materials are not necessarily representative of the income, if any, that a Talk Fusion Associate can or will earn through his or her participation in the Talk Fusion Instant Pay Compensation Plan. All references to income, implied or stated, throughout the Talk Fusion Instant Pay Compensation Plan are for illustrative purposes only. These figures should not be considered as guarantees or projections of your actual earnings or profits. Talk Fusion does NOT guarantee any level of income or earnings to any Associate; any representation or guarantee of earnings would be misleading. The purchase of a Talk Fusion Product Package is completely optional and is not required for an Associate to participate in the Talk Fusion Instant Pay Compensation Plan.