ViSalus Will Launch New Products At USA Convention
September 9, 2014
By Tina Williams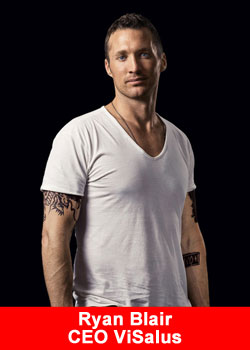 Thousands of Vi Promoters and Customers from all over the world will come together at Vitality 2014 on September 12-13 at the George R. Brown Convention Center in Houston, Texas for an unforgettable celebration of Life, Health and Prosperity.
During this annual event, ViSalus will officially launch four new wholesome and nutritious Vi product options that will provide consumers with a fast and convenient way to recharge their bodies while pursuing their weight-loss and fitness goals.
Additionally, the ViSalus Founders, who recently reinforced their commitment to the company by going all-in through a management buyout, will share their excitement and vision for the future of ViSalus.
One of the biggest launches at the event will be the unveiling of four original items in a new product category for the company.
ViSalus Co-Founder and CMO Blake Mallen will explain the marketing, tools and social campaign supporting the new items, which are designed to completely change how people eat and make goal-setting tastier and more convenient.
These products will help individuals on The Challenge 'lose it' or 'build it' with options that make healthy eating part of their everyday lifestyle, rather than a diet, said Mallen.
Pre-launch excitement has already been gaining momentum via clues provided as part of Vi's #whatsinthebox social campaign. Followers on ViSalus' Instagram are tracking the clues as they are revealed and guessing 'what's in the box' that will be opened at Vitality.
We have never been more pumped for Vitality than we are this year, especially after recently going 'all in' by leading ViSalus' management buyout to position the company for long-term growth, said Ryan Blair, ViSalus Co-Founder and CEO.

This year's celebration will not only showcase all the successes from our outstanding team of Promoters, but will reveal revolutionary products, adding much more flavor and variety to our healthy living mission. The event is almost here and we can practically taste it.
Renowned leadership expert, speaker and best-selling author John C. Maxwell will address the entire Vi community providing indispensible insight on how to tap into their inner leadership potential and teach Promoters specific skills they can use to not only raise their own leadership lid but also duplicate that success with their teams.
Attendees can also participate in the ultimate product training, which will feature the new products launched at the event, from Dr. Michael Seidman of the Vi Scientific Advisory Board and Vi's Senior VP, Research & Development Dr. Silvia Uribe.
In addition to the launch, attendees will celebrate this year's success stories andChallenge victories. The reigning Regional Champions will take the stage, and Vi will crown the new Challenge Champions and Vi Models. The event will also recognize the company's top Promoters, including new Ambassadors and Vi Millionaires. With much to celebrate, Vitality will conclude with a Saturday Night Party — a Western Hoedown where attendees can embrace the Vi spirit and strong community culture.
Vitality is not only a fun celebration but, more importantly, it is a time to reflect on our accomplishments and the impact we are making on the world… 10 lbs. at a time, said Blair. Our celebration can be seen every day in people living healthier and happier lives.
About ViSalus
ViSalus, Inc. is a healthy lifestyle company that is dedicated to Challenging the World… 10 lbs. at a Time. Founded in 2005, ViSalus develops high-quality weight-management products and nutritional supplements that it markets and sells direct-to-consumers through an international sales force of independent promoters. ViSalus markets its products in North America under the ViSalus®brand and in Europe under the Vi™ brand, through the Body by Vi Challenge®. ViSalus is headquartered in Los Angeles, California and Troy, Michigan.