Matt Morris – WorldVentures Top Earner Reports Growth
September 2, 2014
By Team Business For Home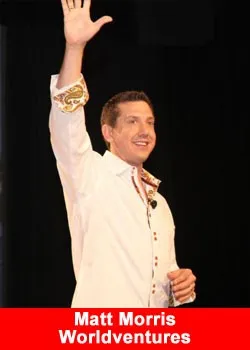 Matt Morris is one of WorldVentures's top earners and an International Marketing Director. He is married to Rhonda Morris living in Dallas, Texas, USA and they have 3 children.
In his network marketing career, he has built organizations totaling over 500,000 representatives earning him millions of dollars.
He has been the Nr. 1 money earner for three separate companies in his 19-year career as well as the owner of his own personal development network marketing company which became the #1 most visited personal development website on the internet.
Matt joined forces with WorldVentures in June of 2009 after the company had been in business for 3 ½ years. WorldVentures, after less than six years in business, has now grown to one of the top 100 Direct Selling Companies worldwide enrolling over 100,000 customers in approximately 20 countries. A full interview with Matt Morris is here.
According to a post on Matt Morris Facebook:
Just checked last week's sales report – 8,405 new team members! IN ONE WEEK!
1 new National Marketing Director

1 new Regional Marketing Director

9 new Marketing Directors

19 new Directors

85 new Senior Representatives
We are on the march to a Billion in sales, and creating financial freedom for thousands of entrepreneurs around the world.
Make sure you are plugging in and capitalizing on the momentum.
Obviously this is a lot of business, especially in one week, but keep in mind, our company is virtually unheard of around the world and we are just getting started