Over $22 Million In Combined Earnings Among Visalus' Three Top Earners
September 30, 2014
By Tina Williams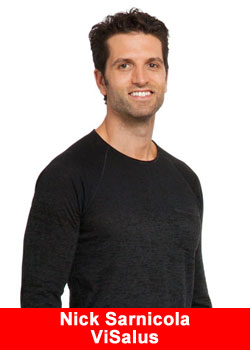 There's no doubt that passion, purpose and goodwill can get you far in life. With Visalus, it can possibly be a multi-million-dollar-earnings kind of far.
Recently, three of Vi's top earners achieved over $22 million in combined earnings with the company. Global Ambassadors Nick & Ashley Sarnicola celebrated the $10-million mark, while Global Ambassadors Jason & Jennifer O'Toole and Crown Ambassador Kyle Pacetti each earned over $6 million… all in less than five years.
For these three top industry leaders, their multi-million-dollar earnings are a testament to their passion and unwavering commitment to transforming millions of lives through Vi.
"I became a promoter for Vi as a Co-Founder to prove what can be done in this company.

The model, products, and the people hands down are the best in the business. Anyone with unlimited desire and willingness to grow can achieve this milestone one day as well," said Nick.
As for Kyle, who will be celebrating his fifth year with Vi next year, helping more than half a million people take on The Challenge and helping others gain financial freedom is success all on its own.
"If we believe in our company, believe in the mission and believe in ourselves, then that belief can help us achieve greatness," Kyle said.

"It's the ones who understand what we are doing and where we are going who will eventually become the legends of the industry."
Jason—who was once in six-figure debt prior to joining Vi—has built a team of hundreds of thousands of Vi Promoters and Customers together with his wife Jennifer in Canada.
"Vi pioneered one of the best home-based businesses Canada has ever seen," said Jason.

"With PROJECT 10 Challenge we expect to help even more Canadians at a faster pace, show them how we have a weight-loss and fitness solution that can help anyone, as well as give them a global entrepreneurial opportunity like nothing they've ever seen before."
These inspiring leaders have that shown that what you give is what you get—and when you're dedicated to impacting the Life, Health & Prosperity of others… then it's really no surprise when your success becomes the byproduct of helping people.