PartyLite Canada VP/Sales Honoured By Direct Sellers Association Of Canada
September 11, 2014
By Tina Williams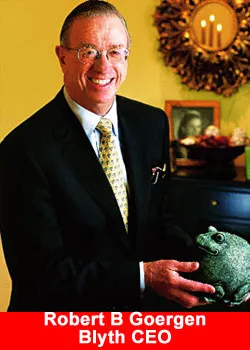 Tracie Graham, Vice President of Sales at PartyLite Canada, was specially honoured by the Direct Sellers Association of Canada at its annual conference held in Halifax, Nova Scotia, where the organization also celebrated its 60th anniversary. Tracie received the organization's Distinguished Service Award.
According to DSA President Ken Mulhall, the award is presented to individuals who have made a significant contribution to the advancement of the DSA through their involvement in the affairs of the association, in their community or in public service.
It is with great pleasure that the Direct Sellers Association of Canada is presenting a Distinguished Service Award to Tracie Graham, Vice President of Sales for PartyLite Gifts, said Mr. Mulhall. Tracie received this award because she masterfully led the Member Rewards Taskforce to sunset our previous program and launch a new and improved affinity program for the association.
Also, Tracie has been a great ambassador of the DSA through her participation on the DSA Board of Directors. Tracie's commitment to the DSA was further acknowledged by her moving into the role of Vice Chair during this year's Annual General Meeting. The DSA is very fortunate to have Tracie on our team.
PartyLite Canada was also acknowledged at the meeting for its compliance with the DSA Code of Ethics, including special efforts to communicate the specifics of the code to all PartyLite audiences. The DSA's mission is to promote serve and protect the interest of Canadian member companies and independent sellers marketing their products and to ensure the highest level of business ethics and service to consumers.
About PartyLite Canada
PartyLite is the world's #1 party plan company selling candles, candle holders, flameless fragrance and wax warmers as well as holiday and home décor available in 21 countries through independent PartyLite business entrepreneurs. In 2014, PartyLite celebrates 41 years as the global leader in its category and 24 years as a member of the distinguished Blyth family of companies. Blyth ranks #18 in the Direct SellingNews Global 100 top revenue-generating direct selling companies. PartyLite Gifts, Ltd. has head offices in Richmond Hill, Ontario, and is a member of the Direct Sellers Association of Canada and the Better Business Bureau