Joan M. Connor Named President, PartyLite North America
May 29, 2014
By Tina Williams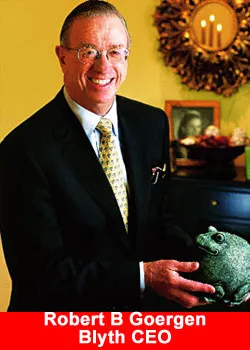 Blyth, Inc. (BTH), a direct-to-consumer company and leading designer and marketer of health, wellness and beauty products and candles and accessories for the home sold through the direct selling and direct marketing channels, today announced that its PartyLite division, the world's largest direct seller of candles, candle accessories and premium home fragrance products, has promoted Joan M. Connor to President, PartyLite North America. Ms. Connor, who joined PartyLite in 2010, was most recently Vice President, Marketing & E-Commerce, collaborating with the Sales and Technology teams to complement the core business model of home parties with technology-driven initiatives that respond to how customers shop today and independent PartyLite consultants conduct their businesses.
Robert B. Goergen, Jr., Chief Executive Officer of Blyth, Inc. and President of PartyLite Worldwide, said, Joan has a proven track record in leading multi-disciplinary teams to achieve outstanding results in challenging environments. Her digital marketing know-how, along with her understanding of operations and technology, should provide the ideal underpinning to improving the overall customer and consultant experience, ultimately leading to profitable sales growth in North America.
Ms. Connor joined PartyLite in April 2010 as Senior Director, eCommerce. She was promoted to Vice President, Marketing & eCommerce in October 2011. She holds a Bachelor of Science in Marketing from the University of Massachusetts.
PartyLite is the world's #1 party plan company selling candles, candle holders, flameless fragrance and wax warmers as well as holiday and home décor in 21 countries through nearly 52,000 independent PartyLite business entrepreneurs. In 2014, PartyLite celebrates 41 years as the global leader in its category and 24 years as a member of the distinguished Blyth family of direct selling companies (BTH). Blyth ranks #18 in the Direct Selling News Global 100 top revenue-generating direct selling companies for 2013. Based in Plymouth, Mass., PartyLite is a member of the Direct Selling Association and the Better Business Bureau.
Blyth, Inc., headquartered in Greenwich, CT, USA, is a direct to consumer business focused on the direct selling and direct marketing channels. It designs and markets health and wellness products, candles and accessories for the home through the direct selling channel, utilizing both the network marketing and home party plan methods. The Company also designs and markets health, wellness and beauty products, household convenience items and personalized gifts through the catalog/Internet channel. Its products are sold direct to the consumer under the ViSalus® andPartyLite® brands and to consumers in the catalog/Internet channel under the Miles Kimball®,Walter Drake®, Easy Comforts®, As We Change® and Exposures® brands.
This press release contains forward-looking statements. Forward-looking statements are identifiable by words or phrases such as anticipates, intends, expects, believes and will, and similar words and phrases. Forward-looking statements are subject to a number of factors that could cause actual results and/or the timing of events to differ materially from those set forth in this press release. Additional information about the risk factors to which we are exposed and other factors that may adversely affect these forward-looking statements is contained in our reports and filings with the Securities and Exchange Commission, including our Quarterly Report on Form 10-Q for the quarterly period ended March 31, 2014. Investors should not place undue reliance on forward-looking statements as predictions of future results.