SEC Sends Accusations Of Herbalife Insider Trading
September 30, 2014
By Tina Williams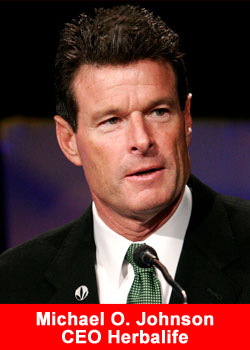 The hedge fund world occasionally crosses a legal line when gleaning information from corporate insiders. Now, a federal investigation into Herbalife and the traders who traffic in the company's stock reveals that hedge funds themselves produce insider secrets.
Stretching the boundaries of insider trading law, the Securities and Exchange Commission on Tuesday accused two men of possessing confidential information about a hedge fund's plan to bet against Herbalife. One of the men, Filip Szymik, settled the case; his friend and co-defendant, Jordan Peixoto, did not.
Mr. Szymik's problems, first detailed in a New York Times article in May, began when he learned that the billionaire William A. Ackman was planning to announce a bearish view of Herbalife, a giant diet supplements company. Mr. Szymik had an unlikely source: his roommate was a junior employee at Mr. Ackman's hedge fund. The roommate, who did not himself trade in Herbalife, is not accused of any wrongdoing.
The S.E.C. pursued Mr. Szymik, a 29-year-old former collegiate tennis star, even though he did not trade either. Instead, according to the S.E.C., Mr. Szymik shared the insight with another friend, Mr. Peixoto, who placed his own wager against Herbalife. When Mr. Ackman announced a $1 billion bet against Herbalife, a move that pummeled the company's stock, Mr. Peixoto reaped $47,100 in illicit profits.
Of all the angles the government has pursued in the long-running Herbalife investigation — the S.E.C. is questioning whether Herbalife is a pyramid scheme and whether billionaire investors who bet for and against the company violated securities laws — the case against Mr. Szymik and Mr. Peixoto was the least expected. But it was the first, and ultimately could be the only one, to be filed.
In another apparent first for the S.E.C., the agency built its case on the premise that a hedge fund's private investment playbook amounted to inside information, setting a sharp tone not only for the broader Herbalife investigation, but also in how the S.E.C. pursues insider trading on Wall Street and beyond. That decision, legal experts said, puts a twist on the prototypical investigation into leaks of earnings information or other corporate announcements.
"Szymik and Peixoto chose to engage in illicit tipping and trading in advance of the announcement of market-moving information, and today they are being held accountable for those offenses," Sanjay Wadhwa, the S.E.C. enforcement official who oversaw the case, said in a statement.

In a separate statement, Paul W. Ryan, a partner at Serpe Ryan who represented Mr. Szymik, said that "Mr. Szymik did not trade a single share of Herbalife, and he did not make a penny from his friend's trade." He added that with the settlement, which required him to pay a $47,100 penalty, Mr. Szymik "hopes to put this behind him."
The penalty, identical to Mr. Peixoto's profit on the Herbalife trade, is a fraction of the billion-dollar battle over Herbalife that has divided Wall Street into two camps. On one side is Mr. Ackman, who has staked his reputation on a belief that Herbalife is a pyramid scheme and spent some $50 million to mobilize interest groups, lawmakers and federal regulators against the company. The other group, led by the hedge fund magnate Carl C. Icahn, expects the company to emerge from regulatory scrutiny unscathed.
How Mr. Szymik and Mr. Peixoto came to land in the regulatory spotlight, briefly overshadowing storied investors like Mr. Ackman and Mr. Icahn and distracting from the broader fight over Herbalife, is an unusual tale of friendship and betrayal that traces back to before the early days of Mr. Ackman's campaign.
Mr. Ackman's hedge fund, which has nursed hundreds of millions in paper losses on the Herbalife bet until recently, requires its employees to keep investment information confidential. Mr. Ackman, who can move markets simply by disclosing a wager for or against a company, aims to keep his positions private until he announces them publicly.
Mr. Szymik and his roommate, close friends who grew up playing tennis together in Poland, had a friendship built on mutual trust that allowed them to share personal and professional information in confidence, the S.E.C. said. They lived in a luxury apartment building overlooking the Hudson River.
In late 2012, Mr. Szymik learned that his roommate was poring over Herbalife's finances, searching for signs of a fraud on behalf of Mr. Ackman. The roommate, who is not named in the S.E.C. order but people briefed on the matter identified as Mariusz Adamski, told Mr. Szymik that the information was "highly confidential," according to the S.E.C.
Mr. Szymik, a consultant who does not work on Wall Street, violated that confidence when he later mentioned Mr. Ackman's plans to Mr. Peixoto, according to the S.E.C. Mr. Peixoto, a Canadian citizen who was employed as a research analyst at Deloitte, lived a block away from the roommates and often socialized with Mr. Szymik.
After talking to Mr. Szymik and learning when Mr. Ackman was going to announce his views on Herbalife, Mr. Peixoto purchased a so-called put option on Dec. 19, 2012, betting that Herbalife shares would fall. When Mr. Ackman disclosed his bet against the company one day later, Mr. Peixoto earned the $47,100 in gains, according to the S.E.C. order.
Mr. Peixoto's lawyer, Derrelle Janey, argued that "this is another instance of the S.E.C. going too far and penalizing somebody for conduct that is not a violation of the law." He added that because the case was filed as a proceeding in the S.E.C.'s administrative system rather than in federal court, "There is a serious question as to whether that approach is proper."
The order, defense lawyers say, does not read like the average insider trading action.
First, to establish insider trading, the S.E.C. must show a breach of a duty, often in the form of employees violating duties to their companies or spouses to each other. But Mr. Szymik, according to the S.E.C, breached a duty to his roommate, a lesser known but not unprecedented aspect of insider trading law. Under S.E.C. rules, a duty of confidence exists "whenever a person agrees to maintain information in confidence" and whenever people "have a history, pattern, or practice of sharing confidences."
It is also somewhat rare, though hardly unprecedented, for the S.E.C. to file an insider trading case that does not involve corporate insiders.
That approach most famously arose in the case of Martha Stewart, the domestic icon whom the S.E.C. accused of insider trading based on a tip from her stockbroker. And in a series of cases over the years, the S.E.C. has targeted newspaper and magazine employees for leaking unpublished news reports to traders, who would then placed well-timed bets on the stocks mentioned in the articles.
But the Herbalife case hinges on the contention that Mr. Ackman's plan to take on Herbalife is itself material and nonpublic, that is, inside information. The S.E.C., legal experts say, has never before filed a case citing an activist hedge fund's bet as an insider secret.
The government continues to pursue other angles in the investigation of Herbalife, scrutinizing the activities of certain investors betting on Herbalife's success. Firms founded by George Soros and Mr. Icahn have been among the Wall Street institutions to receive requests for documents from the S.E.C. Neither firm has been accused of any wrongdoing.
That scrutiny may have arisen, in part, because Mr. Ackman urged the S.E.C. last year to examine whether traders who bought Herbalife stock collaborated to do so together to push the price up, resulting in what traders call a "short squeeze." Traders who act in unison to buy 5 percent or more of a stock are required to disclose this within a 10-day period.
The federal authorities separately have raised questions about Mr. Ackman's hedge fund, Pershing Square Capital Management, responding to concerns from Herbalife that the hedge fund improperly pressed other traders to line up against the company. Mr. Ackman and Pershing Square have not been accused of wrongdoing, and there is no indication that the inquiries will lead to an enforcement action.
Investigations into Herbalife, however, continue to loom over the company. And amid the S.E.C. and Federal Trade Commission investigations into the company, Mr. Ackman's efforts now appear to be paying off.
Two weeks ago, Herbalife's share price fell suddenly to its lowest level since Mr. Ackman's first assault on Herbalife two years ago. It currently trades around $43.80 a share, just above the $42.50 a share price days before Mr. Ackman first began his assault in December 2012.
As for Mr. Adamski and Mr. Szymik, the episode has strained their relationship, people close to them say. Even so, they remain friends.