SPX Nutrition Achieves Phenomenal Growth In First Four Months Of Business
September 29, 2014
By Tina Williams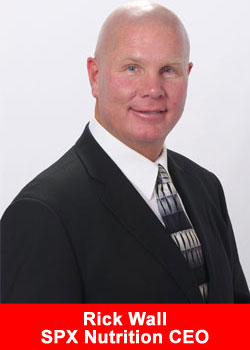 SPX Nutrition launched on May 16, 2014 with network marketing industry veterans Rick Wall, CEO, and Tracie Duke, COO, at the helm. In
four short months, customer and distributor sales have greatly exceeded original projections.
"We are having good, strong growth due to our effective products, unmatched compensation plan and passionate Independent Professionals (IPs)," said Wall.
SPX Nutrition currently offers three products, including the original Nutri-Thin, the most effective weight loss product on the market. Rounding out the product lineup is Nutri-Cleanse, a gentle and effective detox formula and Sea Veg with Vitamin D and Sea Cal, a whole food multi-nutritional supplement. SPX Nutrition prides itself on offering effective, safe, all natural, gluten-free and non-synthetic health supplements.
Along with supplements that help improve health and wellness, SPX has an unmatched 90-Day Weight Loss Challenge that pays participants between $100 and $600 for losing 20 pounds or more. The compensation plan for Independent Professionals is a hybrid Unilevel plan geared towards paying higher commissions up front enabling them to get into profit quickly yet providing substantial residual income as well. "We are so excited for the future. We have the best products and Independent Professionals.
They make this company, and the sales will continue to reflect their efforts and enthusiasm," said Duke. The first round of participants from the 90-Day Weight Challenge have just finished and the results are phenomenal, including an IP who walked away with $600 for losing 65 pounds in 90 days. Along with supplements that work, participants are encouraged to make lifestyle changes with nutrition and exercise.
All 90-Day Challenge participants have access to a panel of certified fitness trainers and wellness coaches to help them on their journey.