Top Industry Leaders Mike & Lyn Allen Join Jeunesse
September 4, 2014
By Team Business For Home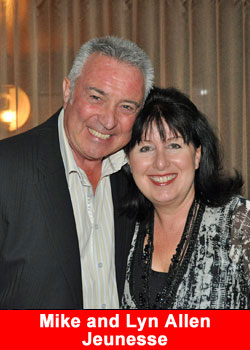 Australia's Mike & Lyn Allen, who were most recently Organo Gold's only Blue Diamonds in Australia, have today announced they have moved to Jeunesse Global Australia and have already started rapidly building their new business with this fast growing company.
"Jeunesse Global is a perfect fit for our future goals and dreams, which is creating a lifestyle and income for us and our team along the way.
We have been studying Jeunesse very carefully for a while, and we have observed their phenomenal growth these past few years, and we especially love their culture. The time is right now to devote ourselves fully to this company that is out-performing anything else out there today," says Mike.
Mike was first introduced to Direct Selling in 1983, and since that time he has risen to the top in many great companies within the industry including Herbalife, L'Arome, Mannatch, and Organo Gold. Mike and Lyn have earned over AUD$5 million in residual income through direct selling in their 30+ years.
"We spent 14 years with Mannatech, reaching and maintaining the position of Gold Presidentials – the only couple in Australasia to achieve this position! Since 2012 we have been with Organo Gold where we hit Black Diamond in the first month, and then Blue Diamond in the second month.
We know we can do even bigger and better things now with Jeunesse Global because we have seen where they have come from and where they are going, and right now there is no other company achieving what Jeunesse is doing in this industry," says Mike.
Lyndon Biernoff, Australia's first Jeunesse Diamond says, I'm so impressed with Mike and Lyn's bold decision! We are seeing incredible things happening all around the world with Jeunesse, and we are seeing many top leaders from across the industry who want to be part of it. Jeunesse is no longer the best kept secret in the industry! Working with Mike and Lynn will be a honour.
Christopher Cooper, Jeunesse Global General Manager for Australia says,
"We are of course thrilled to have Mike and Lyn join with us. Their track-record is proven in this industry and they have great training skills that we are all going to benefit from. Our business here in Australia more than doubled this past year – I think with Mike and Lyn we may soon double that again!".
Jeunesse Global started in September 2009, and in less than five years Jeunesse is now ranked as the fastest growing Direct Selling Association company in the USA (Inc. Top 500) with 1,788% growth over the past three years, operations in over 100 countries, and 2013 sales of US $224 million.