Total Life Changes Tremendous Growth In The USA
September 16, 2014
By Team Business For Home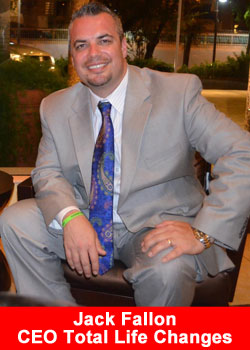 The history of Total Life Changes dates back about 15 years.
The greatest growth of the company occurred just five years ago when CEO Jack Fallon shared his vision with Master Distributer, Armand Puyolt. Together, they laid the foundation for growth and within 4 years they expanded across all of South America, Asia, Korea, Africa, Europe and Canada. Total Life Changes now has offices in over 15 countries.
In December 2013, TLC peaked the interest of a group of three married couples in the United States. Kenny & Chante Lloyd, Erwin & Twiler Portis, and Gregg & Lenika Scott were recognized as $100,00 earners in less than three months. It is this same group of visionaries that have lit a fire across the United States and are responsible for signing up over 500 new TLC affiliates on a weekly basis for two consecutive months. This new growth coupled with the continued growth in South America and beyond led to record sales in July 2014.
Now, TLC TEAM USA is launching a series of exclusive events across the U.S. and South America. The Beautiful You Tour will feature the company's hottest new product line, Iaso™ Impressions, a slimming compression garment coupled with Iaso™ supplements and nutritionals that will impact the inner and outer beauty of women and men across the globe.
The Beautiful You Tour is a Red Carpet Event beginning in Houston, Texas, home of Kenny and Chante Lloyd on September 27, 2014 at the Hilton Garden Inn located in Pearland, Texas. The excitement of this tour is quite relevant in the number of phone calls and emails received in the past three weeks since the announcement of this fashion show and reception.
Our recent sales records have proven that more and more people are finding TLC's products and compensation program the best in the business, but now recent Internet traffic results reflect how popular our efforts have been.
According to mlmrankings.com, a site which tracks over 800 domestic network marketing business trends, Total Life Changes has been ranked as the sixth largest gain in interest for the past month. These analytics are based on extensive Internet traffic research. Furthermore, TLC is in the top 15% of Internet popularity during the past six months, occupying the 17th position overall.
Literally thousands of people have taken notice of the popularity of TLC products and the outstanding business opportunity the company provides. Come see for yourself what sets us apart from the competition. We will be in a city near you very soon 🙂
The Beautiful You Tour
Houston, Texas –Chicago, Illinois –Raleigh, North Carolina
Fort Wayne, Texas –Peru – Puerto Rico
About Total Life Changes
Total Life Changes maintains an active vision of selecting and providing superior products that have a lasting effect on consumer's health while providing these same customers with an opportunity to CHANGE their socioeconomic status through a rewarding binary compensation plan.