Tupperware Received Voice For Women Award
September 22, 2014
By Tina Williams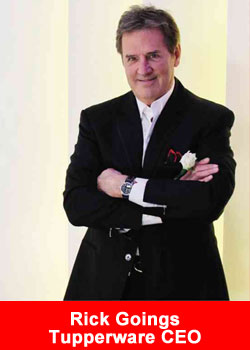 Tupperware Brands Corp. CEO Rick Goings and his wife, Susan, on Sept. 17 received the second annual Voice for Women award for exemplary commitment to women's economic empowerment.
The couple received the award at the Alice Award Luncheon hosted by the Sewall-Belmont House & Museum.
"The Voice for Women Award recognizes those who consistently speak out about empowering women, and on issues that are important to women — Rick and Susan Goings embody the spirit of this award in everything they do," said Page Harrington, executive director of the Sewall-Belmont House & Museum.
The Sewall-Belmont House & Museum also honored Sen. Barbara Mikulski with the Alice Award, which pays tribute to trailblazers who have made an outstanding contribution in breaking barriers and setting new precedents for women.
Goings said he was honored to receive the award and that it only spurs our passion for the cause.
At Tupperware Brands, we've seen how confident and educated women reshape their communities, and we're dedicated to helping more women achieve their dreams, he said.
Orlando-based Tupperware (NYSE: TUP) is a global marketer of premium products across multiple brands through an independent sales force of 2.9 million.
Résumé
Work history: Mr. Goings was recruited to Avon Products in 1985, where he held a number of senior management positions. He joined Tupperware in 1992 as president of Tupperware Worldwide.
Education: Mr. Goings was educated at Guilford College and holds honorary doctorates in humane letters, from Rollins College, and business administration, from Bryant College. He also served in the U.S. Navy.
Outside interests: For more than 20 years he has served on the national board of the Boys & Girls Clubs of America, where he also served two terms as chairman.