USANA Partners With New York Giants Running Back Rashad Jennings
September 25, 2014
By Nicole Dunkley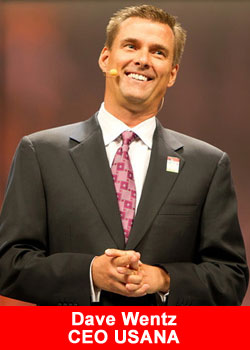 USANA Health Sciences is proud to announce its partnership with New York Giants running back Rashad Jennings who will serve as its newest brand ambassador. Jennings joins more than 700 elite and world-class athletes.
In 2014, Jennings singed a 4-year contract with the Giants. On Sunday, September 21 he posted a career-best 176 yards and a touchdown on 34 carries as the Giants defeated the Texans 30-17, helping the Giants record its first win of the season (1-2).
We are thrilled to announce Rashad as one of the newest members of Team USANA, said USANA Chief Communications Officer Dan Macuga. Not only is he an exceptional athlete, he is a testament of what it means to live a healthy life, and we look forward to watching him perform this season.
Health and fitness have been vital to Jennings' success on and off the field. I was overweight as a kid and rode the bench in high school, but always dreamed of playing in the NFL, said the six-year veteran. I knew that I had to figure things out and commit to bettering myself physically to reach my goals and USANA has helped me stay on that path to become the player I am today.
To date, Jennings holds 68 carries for 286 yards with the Giants and has scored two touchdowns.
About USANA
Founded in 1992, USANA Health Sciences is a U.S.-based nutritional company that manufactures high-quality supplements, personal care and energy products in its FDA-registered facility in Salt Lake City. Learn more about USANA by visiting our web site https://www.usana.com or the official USANA blog https://whatsupusana.com.