Vemma Europe "All In" Convention In Vienna, Austria
September 30, 2014
By Tina Williams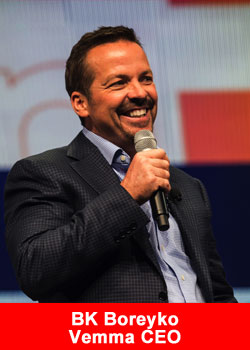 The weekend of 12-14 September belonged to Vemma Europe affiliates and fans. That's when the company hosted its annual convention in Austria Center Vienna, where more than 4,200 attendees from all around Europe got together.
The convention came to life on Friday evening with an amazing kick-off party. The music, the energy, the huge crowd… it was unforgettable. The high point was when Vemma Europe launched its newest product — Verve ReMIX.
How will business be affected by this new addition to the Verve brand? In 2013, Vemma Europe sales have grown 56% in comparison to previous year. ReMIX is projected to boost European market even more, to reach $85 million dollars and 72% increase in sales.
Saturday and Sunday were devoted to training. World-renowned network marketing speakers including Darren Hardy and Michael Starachowitz delivered sessions to motivate and inspire. Then Vemma affiliates attended coaching sessions designed to help them take their business to the next level.
At the Vemma Convention in Vienna Tomasz Stanislawski was announced the new COO of Vemma Europe. The new Vemma Europe COO is an energetic leader with outgoing personality and many years of experience in affiliate marketing industry.
Here's what he has to say about the 2014 Allin Convention: "This was by far, the most spectacular event ever forged by this company."
Link to video recap: https://www.youtube.com/watch?v=HzGpBD5nLTE