Vemma Named Arizona's Fastest Growing Private Company
September 24, 2014
By Tina Williams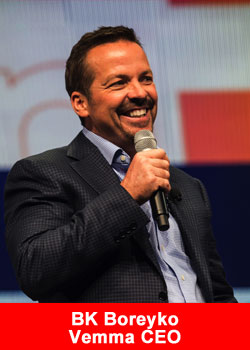 Arizona's Corporate Excellence Awards (ACE) named Vemma® the "Fastest Growing Private Company in Arizona" and the "15th Largest Private Company" at an awards ceremony held at the Scottsdale Center for the Performing Arts on September 18, 2014.
Representatives from various private companies attended the exclusive, invitation-only event, including Founder and CEO BK Boreyko and Founder Karen Boreyko. Vemma was among the 50 privately held companies in Arizona that showed substantial stability and financial strength, and topped the list of 25 fastest growing companies based on the past two years' revenue.
BK commented, "As we approach our 10th year of business, it is an honor to have reached this milestone of success and accomplishment. There are so many companies here in the Valley making a difference. Any one of them could have been here in my place. I'm glad that I'm making the Valley proud, and I am grateful to the thousands of Vemma Affiliates and Home Office employees that have made this success possible."
Vemma extended a special thank you to the Affiliates working so hard to build their own businesses and educate people across the world on the benefits of liquid nutrition. This success is due in large part to their determination and perseverance. It's just another reminder that anyone can achieve their dreams with hard work and a really great product.
This success is huge considering Vemma was tenth on the growth list and 29th on the revenue-ranking list as awarded at the 2013 ACE awards. The ACE awards is sponsored in part by the Phoenix Business Journal. It celebrates the largest private, for-profit companies across our lovely state of Arizona.
Vemma is one of the $15 billion revenue generating companies that employ over 40,000 workers in the state. These honors add to the statue count of 46 for the year.