ViSalus Expands Into Snack Category With The Launch Of Vi Bites
September 19, 2014
By Tina Williams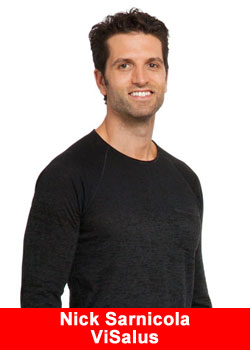 Celebrating over nine years of innovation, ViSalus is revolutionizing its snack category with its launch of Vi Bites™ – a bold, new wholesome snack option available in four original varieties. Introduced for the first time to thousands of Vi Promoters and Customers at ViSalus's largest annual global event, Vitality 2014, Vi Bites provides delicious and convenient bite-sized snack options to support healthy living and help consumers achieve their Challenge goals.
Vi Bites comes in four varieties of delicious, crunchy and nutritious snacks that add more flavor variety to eating and more flexibility for on-the-go lifestyles. Each Vi Bites product is packaged for convenience, suitable for vegetarians, and includes no cholesterol, artificial sweeteners, preservatives or colors. Vi Bites come in both sweet and savory options to support both weight-loss and maintenance goals as well as active and fitness goals.
The introduction of Vi Bites enables the company to leverage growth opportunities in the popular snack food category. Studies show that the average person consumes almost 600 calories a day from snacking[1], and that the consumer trend of snacking between meals continues to grow[2] with nearly 100% of people snacking at least once a day[3] and 70% of all adults in the U.S. snacking almost three times a day[4]. The quality of snack greatly impacts health and lifestyle.
The U.S. Department of Agricultural Dietary Guidelines recommends whole-food, nutrient dense snacks like nuts, seeds, and dried fruits – all of which are part of ViSalus' line of four easy, on-the-go, high quality Vi Bites products that promote smart snacking. Vi Bites is bite-sized nutrition at its best, available for consumption anywhere and anytime.
Vi Bites takes better snacking to an entirely new level, allowing us to provide a smart option for those snacking occasions for our Customers and Promoters on The Challenge, said Blake Mallen, ViSalus Co-Founder and CMO. Our system of sensible eating offers people snack options between meals which are suitable to their lifestyle so attaining their healthy living goals cannot only be reached, but also maintained.
Vi Bites comes in four wholesome flavors. Fruit Frenzy is 50 calories, and is an all-natural mix of freeze-dried fruits that is a nutritious guilt-free sweet treat for weight-loss and weight maintenance goals. Also for weight loss and maintenance, Glorious Greens is 70 calories and is a blend of freeze-dried veggies with a savory Italian-style spice. The other two flavors target those who may want to gain lean muscle or reach active and fitness goals or are just looking for a higher protein snack.
Chocolate Monkey is an all-natural snack with 9 grams of protein that combines banana chips, chocolate, nuts and seeds for a crunchy and sweet treat. Fiesta Nut has 10 grams of protein and is a combination of nuts, seeds, and soy nuts that is lightly spiced for a savory tasting delight.
To generate social buzz leading up to the product launch, Vi's social media clue campaign, #WhatsInTheBox, dripped visual clues on the ViSalus Instagram and Facebook accounts, which collectively have almost half a million followers, prompting people to guess the contents 'in the box' that would be revealed live via Instagram, on stage during Vitality.
Vi Bites offers a variety of options, so that snacking smart becomes a lifestyle, said Mallen. They're for anyone who likes to snack but also wants to lose weight or get fit. We know that unhealthy snacking can deter people from achieving the weight loss and fitness results they want. However, there's a lot of research that shows snacking to be very beneficial, and so we developed nutritious snack options that complement the other Vi products and can help people have more success on their Challenge—not only in the short-term, but also over the long-term.
About ViSalus
ViSalus, Inc. is a healthy lifestyle company that is dedicated to Challenging the World… 10 lbs. at a Time. Founded in 2005, ViSalus develops high-quality weight-management products and nutritional supplements that it markets and sells direct-to-consumers through an international sales force of independent promoters. ViSalus markets its products in North America under the ViSalus® brand and inEurope under the Vi™ brand, through the Body by Vi Challenge®. ViSalus is headquartered in Los Angeles, California and Troy, Michigan. For more information about ViSalus, please visit Vi.com and follow the Vi-Community on Facebook (Facebook.com/Vi) and Twitter (@ViSalus).
[1] The American Diet Then and Now: How Snacking is Expanding the Country's Waistline. University of North Carolina, published in the Journal PloS Medicine (June 2011)
[2] Mintel: Healthy Snacking Consumer – U.S. (December 2013)
[3] California Olive Committee Consumer Snacking Survey (2014)
[4] Packaged Facts – Snack Foods in the U.S., 4th Edition (June 2011)