Zija International Awarded As Utah's #1 Growing Company
September 4, 2014
By Nicole Dunkley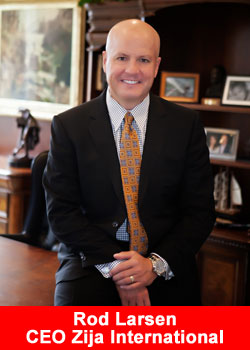 Zija International was recently named Utah's #1 fastest-growing company by Utah Business Magazine. The award was part of the magazine's annual "Fast 50" list, which ranks companies based on their percentage of growth year-over-year.
Zija was awarded during the Fast 50 luncheon held at the Grand America Hotel in Salt Lake City, Utah; each company was awarded in reverse order from 50 to 1.
Ryan Palmer, Zija's Vice President of Sales, accepted the award on Zija International's behalf. He gave thanks for the award and credit to Zija's amazing field Distributors and corporate employees.
He also expressed excitement about the future of Zija International, including the upcoming launch of the company's two new divisions—Ripstix Fitness Supplements and Améo Essential Oils—as a step closer to Zija's goal of becoming a billion-dollar brand and a legacy company in the network marketing industry.
Other companies recognized as part of the Fast 50 came from various industries including healthcare, tech, network marketing, sales, and software.
About Zija International
Zija International, Located in Lehi, Utah, develops natural, earth-friendly health, wellness, nutrition and fitness products. Zija currently operates in 50+ countries worldwide through its global family of Independent Distributors.
Although the company has been in business for only a few short years, it has experienced impressive growth year after year and been recognized as one of the fastest-growing and top-revenue companies by Inc. Magazine, Direct Selling News, and Utah Valley Magazine, to name a few.
Zija International was founded by Ken Brailsford and is led by President and CEO Rodney Larsen. The company's focus is on helping its distributors, customers and employees live "Life Unlimited" through financial freedom, personal development, improved health and nutrition, and living an active lifestyle. For more information, visit zijacorp.com.