ACN Enters The Health Industry With A Shake
October 6, 2014
By Nicole Dunkley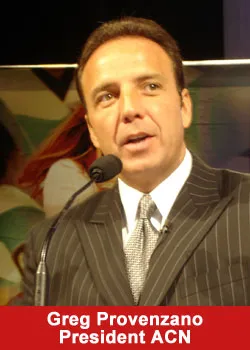 ACN Inc, the world's largest direct seller of telecommunications, energy and other essential products and services, continues to expand its "aNuMe" portfolio of Nutrition and Wellness products in Mexico. Just two months after its Mexico debut, the aNuMe nutritional program's Shake-it! is now available in Cookies and Cream as well as Chocolate. Both flavors will now also be available in convenient new single serve sizes.
Shake-it!, a protein shake low in fat and calories, provides an optimal balance of protein, vitamins, fiber and minerals. By simply mixing with water, people enjoy a healthy boost any time of day. Serving as a simple and practical option morning, noon or night, Shake-it! helps people avoid making poor nutritional choices at mealtimes which can negatively impact overall wellness.
Available for purchase now, Cookies and Cream Shake-It! is a delicious sweet cream-flavored shake generously sprinkled with chocolate cookie bits. In addition to bulk packaging, a 1134-gram resealable bag which makes approximately 21 shakes, Shake-it! in both Chocolate and Cookies and Cream flavors, is now offered in a 10 count box of single serve 54-gram packets. Developed with hectic schedules in mind, Shake-it! packets are easy to carry anywhere and practical for on-the-go enjoyment or sample tastings.
The aNuMe brand offers a comprehensive line of products in the Nutrition and Wellness category. All products have been formulated and manufactured in the United States by world-class partners using only the highest quality ingredients. Shake-It, along with Go! and Sync! form the aNuMe Nutritional Program, developed to help aNuMe individuals to safely reach and maintain a healthy lifestyle.
Nutrition and Wellness is currently a global multimillion-dollar industry, as hundreds of millions of people around the world choose to invest in their health. According to the latest statistics from the Organisation for Economic Co-operation and Development (OECD), numerous countries, including Mexico, suffer from more than fifty percent of their population being overweight. This trend shows little sign of slowing, at least in the short term, leading analysts to predict that Nutrition and Wellness will become a billion-dollar business in the coming years.
ACN offers its Independent Business Owners in Mexico and around the world the opportunity to own a successful home-based business, earning income through direct sales of high quality products and services.
About ACN Inc.
Founded in 1993, ACN is the world's largest direct seller of telecommunications, energy, and other essential services for residential and business customers. In Mexico, ACN offers a comprehensive line of Nutrition and Wellness and Personal Care products as well as certain mobile phone services. ACN operates in 24 countries with offices located throughout North America, Latin America, Europe, Asia and the Pacific. For information on ACN's home-based business opportunity, visit https://www.acninc.com.mx