Banners Broker's Accounts Frozen
October 13, 2014
By Tina Williams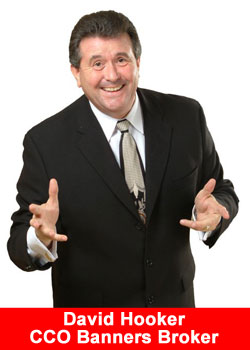 Police in Canada have claimed the masterminds of the Banners Broker advertising website, which netted 12,000 investors there, were operating a pyramid scheme which evolved into a straight Ponzi scheme.
The Royal Canadian Mounted Police has also claimed that Christopher George Smith, Rajiv Dixit, and "others known or unknown" possessed and laundered the proceeds of crime.
The Mounties have succeeded in freezing a number of accounts in Canada containing hundreds of thousands of dollars and linked to the Banners Broker scheme.
The officer who has led the investigation, Constable Kate Judd, said in an affidavit seeking the freezing of the accounts that the "suspects will or could soon be charged with the following offences":
-Running a pyramid scheme;
-Fraud over US$5,000;
-Possession of property obtained by crime;
-Laundering the proceeds of crime;
-Making false and misleading representations.
"It is the position of the police that the Banners Broker operation was dishonest and that said dishonesty misled many investors, causing them to part with funds that, had they known the truth about Banners Broker, they would not have parted with," said Judd.

"It is the position of investigators that this business was a pyramid scheme that, over time, evolved into a straight Ponzi scheme in which new victims were recruited to stave off requests for withdrawals and complaints from older ones.

"Except for limited window-dressing to promote the fraudulent scheme, there was no bona fide advertising publishing operation and the investors were being misled as to the source and the nature of their profits."
Judd said that although Banners Broker was taking in upwards of US$2m a month as early as 2012, the total paid for actual advertising to Clicksor, a legitimate advertising network, was less than US$200,000.
One account, the Banners Broker SolidTrust Pay account, was found to have been credited to the tune of US$26,038,368.06 in the course of its existence. By July of this year, however, that Banners Broker account contained just €10,646.22, £16,632.55, US$16,602.15, C$1,833, A$10,543 and NZ$586. An account in another institution was found to contain more than half a million American dollars.
The sums found in those accounts and others were successfully frozen in recent weeks.
In the last few days, Miles Benham And Paul Appleton, joint liquidators of Banners Broker International Ltd, have applied to the Canadian courts to have the BBIL receiver granted "additional investigatory authority" to look into a number of other companies identified by the Mounties "as being integral to an alleged 'Banners Broker' criminal enterprise in which BBIL was a central part".
The application will be heard on October 15.
Originally Reported by The Irish Examiner