Banners Broker Closed Down By The Isle Of Man – UK Court
March 7, 2014
By Team Business For Home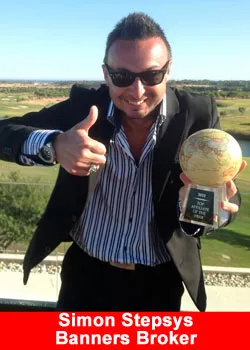 One of the liquidators appointed to the controversial investment company Banners Broker International has said that creditors will get an opportunity to register their claim to the company's frozen cash pile.
Last week Banners Brokers International Ltd was put into liquidation by an Isle of Man court after a judge ruled that in the interests of justice it had to be wound up.
At the time of the liquidation the court was told Banners Broker had $6m (€4.35m) sitting in a dormant Isle of Man bank account but it had no other known assets.
Its chief executive, Canadian Chris Smith, subsequently said the rest of its money had been moved to a newly incorporated company trading under the same name in Belize. It is now known how much had been moved, but he said the Isle of Man bank account had only represented a "rainy day" fund which it could not get off the island in the Irish Sea in time.
Paul Appleton, who was appointed a joint liquidator to the Isle of Man firm, said the process was still at an early stage and once established it will allow creditors to stake a claim.
"The joint provisional liquidators are in the process of drafting a letter, which will go to all known creditors informing them as to the next steps.
"Additionally, the forthcoming creditors meeting will be communicated and advertised in accordance with the statutory requirements," he said in a statement.
At estimated 12,000 Irish people had money invested in Banners Broker after its sales pitch promised "guaranteed" profits. Separately the company has previously said there are up to 400,000 people around the world who bought some of its secretive website marketing panels that were supposed to be sublet to advertisers for a profit.
The Isle of Man court also heard that in addition to ordinary investors there was a substantial claim, said to be worth $3m, registered against BBIL by its former independent contractor in Britain Ian Driscoll.
Mr Driscoll took a breach of contract case against BBIL in the Isle of Man in early February and has said he pushed for the joint-liquidation to secure the sums he was owned and the money people had invested.
He has said if there are assets that have been moved to the Belize company they will be pursued.
Some investors have said they succeeded in getting money they paid to BBIL by credit card refunded after reporting the transaction was based on fraud or the product was not delivered.
Mr Smith has tried to warn investors that anybody who makes a claim to the court in the Isle of Man will not be paid, although he has no say in the liquidation process which will be overseen by a court-appointed Committee of Investigation.
The Canadian said investors signed up to an internal disputes' procedure that prohibits investors from seeking recourse through the courts.
People with money in Banners Broker accounts have been waiting many months to be able to get proper access to their funds after tight restrictions were imposed.
Banners Broker previously blamed payment problems on technical issues but have now admitted the liquidation and its lack of access to the $6m fund will impact on promised transfers.
Source: Irish examiner