Global Wealth Trade Africa Summit Attracts 1,200 Consultants
October 2, 2014
By Team Business For Home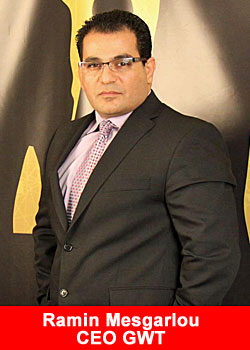 Global Wealth Trade is a huge success in Africa – 1,200 people attend the Abuja summit in Nigeria.
Last year we extensively covered how Global Wealth Trade was the first MLM Company to be fully embraced by 26 countries in the Caribbean countries where traditionally the Caribbean is not known to be MLM entrepreneurial.
Ramin Mesgarlou – Founder/CEO stated:
It was awakening to see 800+ people gather in double Decker stadiums with a dozen dignitaries, top level ministers including Governor General and Prime Ministers attending the official launch of Global Wealth Trade in their countries and give welcome speeches.
Now we see Global Wealth Trade being fully embraced by the African continent led by Nigeria, again not a traditional MLM market.
INSANE is the highest level of accolade you can receive in GWT and Africa; led by Team Nigeria has been just that –INSANE. Over 1200 people attended GWT's first major Tour night (business presentation) in Abuja and for a new market that is just INSANE
Ted Nuyten had the honor to cover the African MLM explosion by interviewing GWT Founder Ramin Mesgarlou.
Ramin, tell us about the massively successful Abuja summit, did you expect that type of reception for the first major event?
Ted, first let me thank you for doing what you do daily, weekly, yearly for the industry. Your contribution to the MLM industry as the industry's "scorekeeper" is legendary and hall of fame worthy. Keep the light shining on the industry for two reasons;
Recognize the great companies that are changing people's lives and enhancing economies.
Expose the many imposters who enter the greatest industry in the history of the world and hurt our work force for personal gain.
As far as my expectation of the Abuja summit, any genuine person will admit such monumental success is humbling no matter how many times you experience it. That said my favorite saying is ..
When it happens once – maybe you got lucky
When it happened twice – may be you had a sale
When it happens in 26 countries in the Caribbean and already 15 countries in Africa then it is a SUCCESS.
Back to your question, our African market has been surging for the past year particularly in Nigeria, so yes we expected another record country launch.
Ramin, so tell our readers WHY Global Wealth Trade? The industry is 70+ years old so why is GWT so accepted and embraced by these traditionally NON MLM markets to have 1,200 people show up to a Tour and presentation?
Well Ted, I think the normal GWT attributes such as Visual high glamour designer goods and the industry's most rewarding distributor compensation plan that has led our operation to 86 countries plays a strong role here however, the secret I believe is GWT's exclusive FREE FLLOWING and VARIABLE compensation plan.
Ramin, you are the top compensation plan super strategist so without getting too technical please elaborate:
The industry CV (Commissionable Volume) to commission conversion is comprised of three parts:
1 – Distributor creates CV in their group.
2- The CV flows through a series of PIT FALLS called RANKS.
3- The balance of the CV that survives the series of qualifications, re-qualifications, CV and commission level cut offs and dozens of other pit falls, gets converted to commissions and bonuses for the distributors.
This is the standard MLM compensation plan set up which the traditional MLM markets like North America, Asia, Australia and Europe are used to so they grind through it all. As an a comp plan expert and high performing distributor for 14 years, I have a serious problem with the standard quo RANK FILLED plans that are the norm today because they are set to pay slow and a grind to maintain.
Yes, you have been a loud critic of RANKS for a decade now Ramin so why do companies keep including ranks in their plans if it hurts their distributors?
Profits and bottom line. As a comp plan creator who has made comp plans for 5 up start companies, CEOs often approached me to create compensation plans for their up start companies. However they would all refuse my ideas of how comp plans should be structured, as it was TOO COSTLY to the corporation so I was asked to create a plan that creates what is called "breakage" by loading the plan with RANKS. "Breakage" is simply commissions and bonuses that will not flow to the distributors because they did not meet the monthly qualifications or re-qualifications and those funds stay with the company.
In 2005 when I finally decided to launch my own company Global Wealth Trade Corp, I created a compensation plan with DISRIBUTOR MENTALITY and not a corporate mentality. Even today 10 years later and as a CEO, I am still a distributor at heart with distributor DNA. So to connect the dots, FREE FLOWING & VARIABLE in the GWT compensation plan simply means NO RANKS, which means NO COMMISSION RESTRICTIONS. Simply put, when you create CV in GWT, that transforms to commissions without any restrictions that requires monthly re-qualifications other than the monthly IA activities (similar to autoship).
This also means that every LC (Luxury Consultant) in GWT will MAXIMIZE the team commissions from DAY 1 where in any other MLM company, only a few who reach the top ranks can maximize the plan. So to answer your original question "why GWT" is embraced by the newly emerging markets where no other company has is because the new markets will not be able to sustain and advance RANK FILLED plans which results in them quitting shortly after launch and the momentum is short lived. However since the standard quo comp plan limitations, restrictions & qualifications are not present in the GWT's exclusive and revolutionary FREE FLOWING & VARIABLE compensation plan, the average person finally has a serious shot of earning long lasting income or even create wealth.
https://www.youtube.com/watch?v=W5sidxAYXrU
So every single LC can maximize the plan from day 1 without reaching the top ranks?
Yes Ted, in fact there are no RANKS to climb. This makes CV conversion to commissions immediate, simple and FAST where RANK FILLED plans is complex and slow.
If everyone maximizes the comp plan from day 1 than how do you separate your top producers from part timers or as you put it in Forensic Networker "Some-timers"?
Ted, great observation, there are THREE parts to compensation plans
Commissions
Bonuses
Incentives
The proper allocation should be 80% commissions, 20% bonuses/incentives. Why? Because commissions are permanent and bonuses are one time or if they are there monthly, they require MONTHLY re-qualifications that 99.99% of distributors will never be able to do long term. This is the reason why so many distributors in RANK FILLED companies attain a rank once and get the PIN however the next month they don't get paid at that pin level because they missed re-qualification. So you have bunch of pins in the meeting rooms but 99% of them don't actually get paid at that pin rank.
In GWT's compensation plan we do have different statuses that highly rewards our top performers utilizing BONUSES & INCENTIVES but NOT commissions. The HUGE difference with our statuses vs. typical industry ranks are that GWT status is NOT attached to the commissionable volume so it's not attached to your commissions which is 80% of your income. This means your commissions are protected and automatic. Other companies ranking systems are directly attached to the commissions, which means you must attain and MAINTAIN the top-level rank to maximize the commissions.
So without getting too technical in compensation plans here, why we are being embraced by non traditional markets is that our FREE FLOWING and VARIABLE Plan is simple to learn and simple to earn. Other companies rank filled compensation plans are complex and new MLM markets simply cannot cope with the ongoing qualifications and requalification so the flame soon fizzles out.
In other words, the GWT draw to new markets is the transition from CV to income is seamless without monthly qualifications?
Correct and the end result is we have income milestones of $40,000 + per month in Nigeria where average middle class income is $640 per month. That is 54 TIMES more than the average middle class income there. We already have a dozen LCs in Nigeria who is part of or close to the GWT 10K club ($10,000 + per month in Residual income) and most of them launched their GWT VDM (Virtual Designer mall) less than a year ago and have less than 250 LCs/VDMs in their team. These INSANE stats simply cannot be matched in any rank filled plan.
Yes, we just featured one of your Ambassadors Rene Liaw in Canada who earns over $100,000 per month with less than 7000 LCs/VDMs, which is unprecedented.
GWT world records such as Rene Liaw's 100K records will never be challenged because in any other company to reach $100,000 in RESIDUAL income you will need 80,000 to 150,000 distributors/users. We have other Ambassadors like Reza Mesgarlou who earned his first million dollars ($1,000,000) in residual income in less than 27 months and 2400 LCs. Again, stats that are unheard of and will never be challenged by any other company due to our FREE FLOWING & VARIABLE structure.
It is exciting to see new continents open their doors and hearts to this amazing industry so tell us how Africa started?
As usual, LCs drives the company's growth and expansion. Outside client care corporate only has TWO main roles;
Make sure to create and provide the best products your distributors can promote.
Make sure the commissions are on time and accurate.
Africa launched because of LCs from Canada expanded to California and from there expanded to Africa. Very quickly Nigeria became the leader in that continent and soon after they over took Canada and USA and became GWT's number 1 market in the world.
When you take a look at our monthly country performance report that we post on our FB page (Global Wealth Trade Corp.), this month you will see 7 African countries on our list and although Nigeria is the brightest star, there are several other African countries surging and moving up fast. In 2014 LCs expanded our operations in 15 African countries and already 7 of them such as Kenya, Uganda, Rwanda, South Africa etc are surging up on our top 10 lists and creating wealth for their LCs and greatly contributing to their local economies.
I guess the GWT advantage, which led to the lighting fast international expansion, is because your designer goods and jewels do not require government approval to enter countries like health and wellness and telecom companies do – correct?
Absolutely, hence we are MLM's fastest expanding company operating in 86 countries and fashion industry's fastest growing luxury designer with average growth of 400+ % per year in just 9 years.
Do you believe that Africa will soon be the hub for MLM?
Absolutely, they are an entrepreneurial society hence they have the fastest growing economies in the world today. Africa's middle class is on the rise and middle class will always drive the Direct Sales/MLM industry. Although MLM has had its footprints in Africa for a while, the people that start their MLM career today are PIONEERS because GWT is the first MLM Company to create a title wave in that continent and create wealth. I don't know of any other international company who originated in North America, Europe or Asia that has their #1 market in Africa. In fact the top 2 awards in the company went to two Nigerian Ambassadors at the 2014 international convention. The prestigious President's cup went to Ambassador Comfort Negedu and the Rookie of the year and the fastest growing organization went to Ambassador Hauwa Bello Aliyu.
Ramin, I have to ask you about a major problem MLM faces in Nigeria. I know first hand many companies trying to expand to Nigeria but having fund transfer issues due to world banking sanctions. GWT is as international company who seem to have found ways to solve this big problem or get around it. How do you pay your LCs in Nigeria from abroad when international MC and VISA cards do not support Nigeria?
Ted that becomes trade secrets so we will protect that information :))
Any advice for your African LCs?
Yes, there are two parts to building an MLM business long term.
Get them in – Launch new VDMs (Virtual designer malls/distributors)
Keep them in – training, training, training
I find new MLM markets are super strong on part 1 and they grow really fast but they lack part 2 and because of that, huge momentums come to an end or slow down almost to a halt. We have been able to sustain and advance our new non-MLM markets because we are very strong on part 2, which is training from DAY 1.
Any advice for other CEO's that would like to duplicate your success with their company in these untapped markets?
Yes – get out of Health and Wellness or Telecom industry, abandon RANKS and create a FREE FLOWING & VARIABLE plan that pays up to 70% back to distributors, revolutionize two industries with innovations never done before, provide REAL luxury and exotic car programs and vacations and not gimmick car "payment" plans that require monthly qualifications as well as a dozen other first innovations and you will do great lol.
HAHAHAHA, thank you Ramin Mesgarlou – AKA The Forensic Networker for another Ramin's signature bold and informative interview.
Website: www.globalwealthtrade.com
Facebook: Global Wealth Trade Corporation
YouTube channel: Global Wealth Trade
See an online business Tour: www.globalwealthtrade.com