Isagenix Raises $348,000 In Less Than An Hour
October 12, 2014
By Tina Williams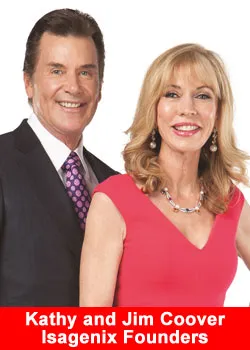 Isagenix, a global health and wellness company, ended its annual 2014 "Strength in Momentum" Celebration event in San Diego by raising $348,000 for Make-A-Wish® in less than one hour. Additionally, Isagenix and Make-A-Wish surprised wish kid Ben, an 11-year-old battling leukemia, with an onstage wish reveal. This fall, Ben's wish to meet a platypus in Australia will be granted!
"Isagenix is committed to improving world health through stewardship and the support of children's charities," said Kathy Coover, Isagenix Co-Founder and Executive Vice President. "Our team of Associates and staff are members of our family. We're passionate about helping to change the lives of children battling life-threatening medical conditions who deserve a fun distraction from their day-to-day fight."
During the past 10 years, Isagenix has raised more than $5 million for children's charities. This includes $1.86 million for Make-A-Wish in the past two years, which has helped grant more than 200 wishes to deserving children. More than 400,000 Isagenix Associates and staff members have the opportunity to contribute to Make-A-Wish on an ongoing basis.
"Our Associates and staff continue to show how committed they are to joining together to make a meaningful difference in the lives of others," said Kevin Adams, Isagenix CEO. "Their combined generosity enabled us to more than double the amount raised compared to last year's annual Celebration event and reflects our company's strength and stability to positively transform the health and well-being of people around the world."
About Make-A-Wish
Make-A-Wish grants the wishes of children with life-threatening medical conditions to enrich the human experience with hope, strength and joy. Based in Phoenix, Arizona, Make-A-Wish is the world's largest wish-granting organization, serving children in nearly 50 countries on five continents. With the help of generous donors and more than 32,000 volunteers worldwide, Make-A-Wish grants a wish somewhere in the world every 22 minutes on average. Since 1980, it has granted more than 334,000 wishes to children around the world.
About Isagenix
Isagenix® Solutions to Transform Lives™, develops and manufactures systems for sustainable health habits, youthful vitality and skin care. Isagenix products are distributed through an independent network of Associates in the U.S., Canada, Puerto Rico, Hong Kong, Taiwan, Australia, New Zealand, Singapore and Mexico. The company's vision is to impact world health and free people from physical and financial pain. Isagenix, established in 2002, is a privately-owned company with headquarters in Chandler, Ariz., and a member of Direct Selling Association.