Kirby Cochran – CEO Wake Up Now Steps Down
October 28, 2014
By Team Business For Home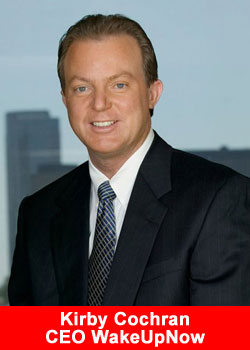 Wake Up Now, a public MLM company (WORC:US) CEO Kirby Cochran has stepped down and COO Phil Polich is named as the new CEO.
In below video, master distributor Brandon Boyd is doing the announcement.
Earlier reports shows Wake Up Now founded in 2009 has burned $7.8 million in 2 year, is not profitable and lacks retail sales.
If this is the reason Kirby Cochran steps down is unknown, a press release is not available.
According to the Wake Up Now website:
Kirby Cochran, Chief Executive Officer:
had been a career venture capitalist with a long track record of helping lead companies to achieve explosive growth. A professor in the Finance department at the University of Utah, he shared a passion for the mission of helping people improve their financial lives and for building a technology platform capable of delivering outstanding value to consumers.
Kirby drives WakeUpNow's vision for helping people live life better. His inspirational vision created an opportunity structure unique in the industry and poised to change the world.
Phil Polich New CEO Wake Up Now
https://www.youtube.com/watch?v=yU2sRrngTnk
Phil Polich, Chief Operating Officer:
started his career as a CPA with Ernst & Young, then transitioned to real estate eventually owning and directing one of the largest homebuilders in the Phoenix area, coincidentally one of the hottest construction markets in the U.S. at that time.
Phil understands the complexities that make a company run; he has built companies with staggering valuations and now brings his expertise as an operations executive to WakeUpNow, where his operational leadership is turning a bold vision into a reality each and every day.
About Wake up Now
WakeUpNow was founded with the vision of helping people save, manage, and make money. Kirby Cochran, Jason Elrod, and Phil Polich have been business partners for years; but in WakeUpNow, they saw an opportunity to create something unique. From the beginning, they were determined to change the industry with two profound goals: 1) offer products with outstanding value for the money, and 2) offer distributors a real chance to change their lives.
This WakeUpNow leadership team brings decades of business experience to an industry that is typically led by former network marketers—not management executives. This team has led WakeUpNow to record growth, changing both the rules for network marketing and the lives of its customers.