LifeVantage Enhances Its Sales And Marketing Management Team
October 15, 2014
By Team Business For Home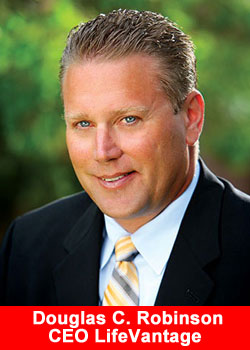 LifeVantage Corporation (Nasdaq:LFVN), has announced the hiring of Ann-Celeste Billings as Vice President of Marketing, Calli Mott as Vice President of Sales Administration, and John Genna as Vice President of Public Relations and Corporate Partnerships.
Ms. Billings has 18 years of global network marketing experience, has created numerous successful global brands and launched more than 200 products during her career. She has held senior management positions at NuSkin, Morinda Inc., and USANA, and has fostered an environment of complete alignment towards achieving strategic sales goals.
Ms. Mott also brings global network marketing experience to LifeVantage. She has worked for the past eight years at MonaVie in significant roles in customer service, global expansion, business development, sales and nearly every facet of distributor-facing roles. Her extensive experience in North America and multiple markets in Asia will be a tremendous asset to all strategic sales initiatives for LifeVantage.
Mr. Genna has been with LifeVantage since August of 2012, most recently as Vice President of Marketing and Communications. He has more than 20 years experience in marketing, communications, public relations and sports management roles. His new role allows Mr. Genna to focus on driving public awareness for LifeVantage, maximizing the jersey-front sponsorship of Real Salt Lake of Major League Soccer, and identifying additional brand-building partnership opportunities on behalf of the company.
We have identified several key areas within the organization to make deliberate investments in an effort to fuel our strategic growth initiatives, explained LifeVantage President and Chief Executive Officer Douglas C. Robinson.

These three areas of focus are critical to our ability to execute and we could not be more excited about Ann, John, and Calli leading these respective efforts. Robinson continues, These strategic hires strengthen LifeVantage as a company and will strongly enhance our management team for years to come.
About LifeVantage Corporation
LifeVantage Corporation (Nasdaq:LFVN), is a leader in Nrf2 science and the maker of Protandim®, the Nrf2 Synergizer® patented dietary supplement, and the TrueScience™ Anti-Aging Skin Care Regimen. The company is a science based network marketing company that is dedicated to visionary science that looks to transform health, wellness and anti-aging internally and externally at the cellular level. LifeVantage was founded in 2003 and is headquartered in Salt Lake City, Utah.