Limitless Worldwide 2014 National Convention Smashing Success
October 7, 2014
By Team Business For Home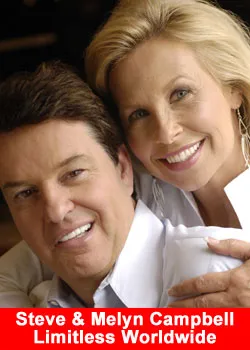 Limitless Worldwide held its 2014 National Convention at the luxurious Grand America Hotel in Salt Lake City, Utah last weekend. It featured an lineup of world-class scientists, celebrity health and fitness experts, well-known leaders in the Direct Sales industry, an exciting array of company announcements, chart-topping entertainment and more.
Limitless Worldwide is a Direct Sales company that's made a name for itself thanks to the rigorous science it insists back each product in its line.
From its revolutionary oral growth hormone booster Thrive-hGH, which has received not one but seven United States patents, to joint and testosterone formulas, a powerful collection of skin-care products, and even an NSF Certified for Sport line, Limitless offers some of the most cutting-edge health and fitness formulas in the business.
Led by Steve and Melyn Campbell, two of the most experienced, successful network marketers in the world, Limitless Worldwide doesn't just have highly effective, science-backed products. It also boasts a patent-pending compensation plan unlike anything the industry has ever seen.

Limitless Worldwide's TriBrid Overlay Compensation Plan is designed to not only give part-time distributors a real opportunity to make money, but to help top-earning executives potentially make impressive full-time incomes by creating multiple income streams off the same downline.
"We're very excited with the incredible response we had at this year's National Convention," says Melyn Campbell. "We're grateful to our celebrity guests, presenters, distributors, and everyone who helped make it a truly unforgettable weekend."
Guests of the Limitless Worldwide 2014 National Convention enjoyed the luxuries offered by the AAA, 5-Diamond Grand America Hotel in beautiful downtown Salt Lake City. They learned that Limitless is launching a game-changing new product, GlyStrictin™, which was formulated to help people lose weight by reducing the body's glycemic response to food, normalizing post-meal hormonal and metabolic responses, and suppressing ghrelin secretion and increasing feelings of satiety, resulting in a reduced desire to eat.
Limitless also announced a new social media platform that distributors are thrilled to start using as a success-boosting business tool.
In addition, the 500 attendees at the National Convention were treated to a show by renowned comedian Ryan Hamilton, who was named one of Rolling Stone's Five Comics to Watch, and who has had standout appearances on Conan, Last Comic Standing, Comedy Central and Showtime. And they attended presentations from some of the most knowledgeable scientists, Direct Sales leaders, and celebrity health and fitness experts in the business.
To learn more about Limitless Worldwide, call 1-800-429-4290 or visit www.LimitlessWW.com.