Meet Trévo CEO Mark Stevens
October 29, 2014
By Nicole Dunkley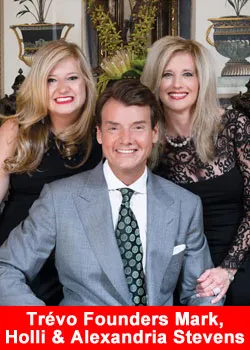 Despite having started Trévo LLC just four years ago in his home state of Oklahoma, Mark Stevens' has already seen his company expand to 14 countries, with plans to add to that number in 2015. As Trévo blazes a trail towards its goal of being the next billion-dollar company, the energetic and highly involved CEO can't help but look back on his unique path to this point.
"Most people in my position would probably say it's been a bit of a whirlwind, but this has been a long time coming," Stevens said. "While Trévo is still young in terms of business, the process – the work and the energy – that has brought my family and me to this point began many years ago."
Stevens' journey toward the creation of Trévo began years ago when he was a young man of just 16. As he watched his mom experience years of debilitating illness only made worse by countless prescription medications, Mark committed himself to a higher standard of healthy living and helping others to avoid the same kind of health crisis his mother had to endure.
While still in high school, Mark discovered his entrepreneurial spirit and passion for excellence as he became the owner of a music company that went on to become nationally recognized. From the very beginning of his journey toward legendary business success, Mark challenged the "status quo" of corporate leadership as he divided his time between studies and running a successful business. Drawing upon his ever-expanding business expertise, he went on to build several successful corporations.
He has successfully built multi-million dollar companies as well as network marketing organizations of tens of thousands. He has made immensely successful acquisitions spanning from North America to the Far East, Africa and beyond, and is recognized as a leader in many global markets.
But don't look for Stevens to heap the praise on himself.
"Everything I have, and everything I achieve and earn, I owe to the God who created me," Stevens said. "He has blessed me with a beautiful wife and daughter, and without my family and the strength they have provided me, I wouldn't be where I am today."
Mark is listed in Who's Who in Corporate America and has served on the national industry Board of Directors for CBA as well as Chairman of the Board for ECA. Currently, he is serving on a major ministry board and a charity board.
Mark is author of Natural Secrets Drug Companies Don't Want You to Know About, in which he shares the secrets of achieving good health naturally. This fascinating read details how nature's bounty of nutrients can keep us healthy without harmful chemicals. It also provides insight into the untold, yet devastating, risks of many prescription drugs common in today's society.
His profound knowledge and insight into the world of network marketing led to his selection as a contributing author in the best-selling Ultimate Guide To Network Marketing, a book combining the wisdom of 37 of the top network marketers in the world as they each share their most preciously guarded secrets to building extreme wealth. In this book, Mark's expertise in building a successful business and nurturing its growth provides a masterful formula for massive, ultra-success in a highly competitive industry.
As a motivational speaker and success coach on an international level, Mark's driving passion is to empower people to enjoy a life of freedom and prosperity; to realize and embrace the greatness for which they were created. The cornerstones of Mark's message as he travels the world are wellness, prosperity, and making a difference in the world in which we live.
"People become what they believe, and I truly believe that everyone was created by God for unlimited greatness," Stevens said. "It is my prayer, and my message to everyone I am able to reach, for them to embrace that belief and consistently pursue that greatness."
As the driving force of Trévo, Mark's visionary leadership has not only created spectacular incomes for untold thousands of people worldwide, but has also touched the hearts and minds of many more with his message of hope, freedom and a life without limits.