QNET Launches Mobile App QNET4U
October 29, 2014
By Team Business For Home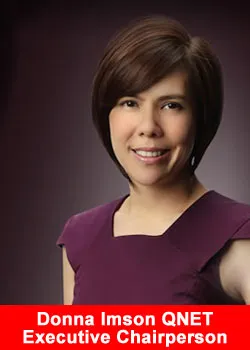 A wealth of mobile apps is helping shoppers, both customers and business minded people, find the merchandise they want – apps with the right information needed to get the perfect product and business opportunity.
Prominent Asian direct selling company, QNET recently launched a new tool in its sales arsenal called QNET4U – the mobile app that gives prospects the best possible content about shopping and earning with QNET.
QNET4U is mobile app add-on to the already slick QNET presentation, which enables QNET Independent Representative (IR) give prospects a takeaway that has emotion, professionalism and style.
QNET Executive Chairperson Donna Imson, who mooted this idea for an app like QNET4U, especially for prospects, says that by making their company or business available and reachable on mobile, they create a virtual enterprise that benefits both customers and prospects.
"We all know that QNET is the real deal and we are living it already. But convincing a prospect who is weary of direct sales, as we all once were, is one of the greatest daily challenges we face.
"QNET4U wraps-up our best and most up-to-date content and serves it to prospects in a neat app to ensure they see our best side right when they are potentially about to make the leap of faith by enrolling.
"I would like to urge our IRs to encourage their prospects to use download QNET4U. It will guide them through a series of videos including a full product portfolio so that they have a good overall understanding of the opportunity they have in their hand," noted Donna.
In QNET4U, prospects browse QNET's stunning products, discover how to make money selling QNET products and are totally inspired by people who are living proof of a better life with QNET. Top used features of QNET4U are as follows:
Products You'll Love – the Product Catalogue eBook

Living Proof Video – this app provides videos that include testimonials from successful distributors, a glimpse into the heart of the company, the business and compensation plan and a guide to registering with QNET.

Opportunity to Live for Video – People interested in QNET can download the app and be guided through videos and the QNET product portfolio with the aim of empowering to see the opportunity that their referring IR has presented to them.

Enroll Now – the 6 steps registration / mobile registration
According to Donna, most of the distributors that thrive in this day and age are those that are accessible, efficient, and agile.
"The growing diversity of the market has challenged many distribution businesses to seek ways that their customers and prospects can reach them – no matter what they are doing or where they are.

"Hence, if you have got a website, that's a good place to start. If you are on social media, that's even better. And if your customers or prospects can also reach you on their mobile, then you have got a good head start in the game," added Donna.
QNET intends to offer better options to its IRs such as translation of this app into Arabic, Bahasa Indonesia, French, German, Russian and Turkish which will help the company reach more markets globally. Additionally, IRs will be given options to either use online streaming (smaller size but features will depend on internet capabilities) or in-app download (larger app size but can be use online/offline). This option will enable the users to control the app's size in their mobile phones.
Search for QNET4U or follow the links to the iOS App Store or Google Play and download it today. Take it for a test drive and weave it into your next presentation as a powerful takeaway for your prospects or customers.
QNET, which is one of Top 5 Asian Direct Selling companies and a pioneer in e-commerce since 1998, acknowledges that the business of direct selling, given the diversity of activity involved, is one of those areas of the industry where mobile solutions have much promise and potential.