Talk Fusion Adds New Incentives To Compensation Plan
October 10, 2014
By Nicole Dunkley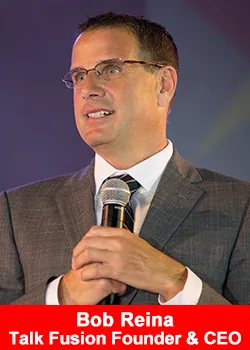 During their monthly live broadcast on September 25th, Talk Fusion Founder & CEO Bob Reina and VP of Training & Development Allison Roberts announced that the company will soon add new incentives to their Compensation Plan.
"We offer the World's First Instant Pay Compensation Plan and 2 trips to Hawaii a year," said VP of Training & Development Allison Roberts, "but Talk Fusion's incentives and rewards don't stop there." By adding Rolex timepieces, a Mercedes-Benz purchase offer, and Recognition Rings to their incentive package, Talk Fusion is fueling motivation and encouraging Associates to set more long-term goals while building and maintaining strong businesses.
Talk Fusion's Mercedes Madness program gives qualifying Associates the opportunity to drive the car of their dreams. Reserved for Associates who reach and maintain the rank of 3-Star and above for four consecutive weeks, the Car Bonus of $600 USD covers the monthly payment of an Iridium Silver Mercedes-Benz C Class or higher. With the upcoming launch of the Mercedes Madness Car Purchase, those who reach and maintain the rank of Diamond Elite for 36 out of 52 weeks will be able to call the Mercedes-Benz their own because Talk Fusion will buy the car for them.
Associates who achieve and maintain the rank of Diamond Elite or above for two consecutive weeks will be awarded prestigious Rolex watches. Because of the brand's pristine reputation as a symbol of class and success, Bob Reina believes Rolex timepieces to be the perfect addition to Talk Fusion's Compensation Plan.
Talk Fusion will recognize top lifetime earners with custom-designed, white gold and diamond Recognition Rings. Associates who have reached lifetime earning milestones of $250,000, $500,000, and $1,000,000 USD will be able to display their achievements with sparkling diamond rings.
For Allison Roberts, presenting these incentives to Associates is a dream in itself. "For me, there is no greater joy than to see the smiling faces of Associates from all over the world as they join me on stage at Talk Fusion Corporate Events to be rewarded for their success," she said. As a firsthand witness of the lives that have been changed with Talk Fusion's Instant Pay Compensation Plan and various incentives, Allison looks forward to the success, recognition, and excitement that these new rewards will bring.
ABOUT TALK FUSION
A global leader in Video Communication Products, Talk Fusion is dedicated to changing lives through unmatched life-sharing solutions provided by proprietary, patent-pending video technology. Talk Fusion's innovative products are marketed person-to-person by independent Associates in more than 140 countries.
The earnings portrayed in this story are not necessarily representative of the income, if any, that a Talk Fusion Associate can or will earn through his or her participation in the Talk Fusion Compensation Plan. These figures should not be considered as guarantees or projections of your actual earnings or profits.
Any representation or guarantee of earnings would be misleading.
Success with Talk Fusion results only from successful sales efforts, which requires hard work, diligence and leadership. Your success will depend on how effectively you exercise these qualities. The purchase of a Talk Fusion Product Package is completely optional and is not required for an Associate to participate in the Talk Fusion Compensation Plan.