Talk Fusion Associates Celebrate Instant Pay
October 15, 2014
By Nicole Dunkley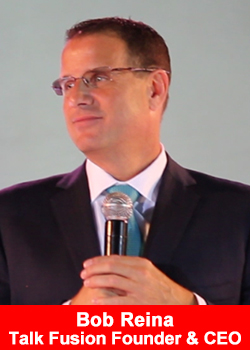 Talk Fusion Founder & CEO Bob Reina firmly believes that "What is rewarded is repeated." He created the World's First Instant Pay Compensation Plan to bring that belief directly to his Associates, and the plan is proving to be both beneficial and well-received worldwide.
Talk Fusion's Instant Pay Compensation Plan is a combination of three important motivators: money, technology, and immediacy. It gives Associates a profound global advantage and emphasizes that success should never have to wait. An Associate receives payment in their bank account or on their Talk Fusion-branded Visa Card only three minutes after a sale is made.
As the cornerstone of Talk Fusion's industry-leading compensation plan, Instant Pay has sparked motivation and enhanced the lives of thousands around the world. It gives Diamond Elite Walter Suarez the freedom to travel the globe, helping others. "Instant Pay enables me to work anywhere in the world," Walter said, "from European cities like Madrid and Rome to Miami, including the small towns and cities from the Peruvian Amazon. There is no one like Talk Fusion with a generous Compensation Plan and its innovative Instant Pay."
When an individual has the opportunity to live their dreams and quickly achieve financial freedom, it's a win/win situation for everyone involved–that's the Talk Fusion way. The company believes that achieving success by helping others do the same is the best reward.
"I want thousands of people to experience this amazing Instant Pay system," said Blue Diamond Yasuko Takakura of Japan. "I want them to feel how wonderful it is to get paid right away and build a much happier life with many team members, friends, and families. This is such an excellent and beautiful business."
ABOUT TALK FUSION
A global leader in Video Communication Products, Talk Fusion is dedicated to changing lives through unmatched life-sharing solutions provided by proprietary, patent-pending video technology. Talk Fusion's innovative products are marketed person-to-person by independent Associates in more than 140 countries.
Founded in 2007 by CEO Bob Reina, Talk Fusion introduced the world's first Instant Pay Compensation Plan. Talk Fusion adheres to the highest ethical business practices and is a member of the prestigious Direct Selling Association (DSA). Reina firmly believes that "with great success comes greater responsibility."
Talk Fusion fosters a strong commitment to Giving Back to friends, family, communities, and animal charities across the world to produce a positive global change. Learn more at www.TalkFusion.com and "Like" Talk Fusion at www.facebook.com/TalkFusion.
Income Disclaimer:
Any earnings portrayed in any Talk Fusion marketing materials are not necessarily representative of the income, if any, that a Talk Fusion Associate can or will earn through his or her participation in the Talk Fusion Instant Pay Compensation Plan. All references to income, implied or stated, throughout the Talk Fusion Instant Pay Compensation Plan are for illustrative purposes only. These figures should not be considered as guarantees or projections of your actual earnings or profits. Talk Fusion does NOT guarantee any level of income or earnings to any Associate; any representation or guarantee of earnings would be misleading. The purchase of a Talk Fusion Product Package is completely optional and is not required for an Associate to participate in the Talk Fusion Instant Pay Compensation Plan.