Trévo Gives Back To Oklahoma Roots
October 1, 2014
By Nicole Dunkley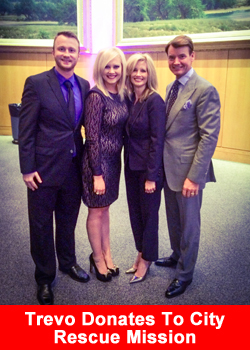 Born and raised in Oklahoma, Trévo President and CEO, Mark Stevens, never fails to forget where he came from and the importance of giving back to his community. Stevens and his wife, Holli, make monthly contributions to Oklahoma's City Rescue Mission and recently donated $10,000 to the City Rescue Mission of Hope 2014.
The banquet was held September 11 at the National Cowboy & Western Heritage Museum and recognized City Rescue Mission sponsors and attendees as they listened to personal testimonies of individuals' lives touched by the Mission.
City Rescue Mission is a private, faith-based, non-profit organization providing solution-based ministry to homeless men, women and children.
In 2007 the Mission hired Rev. Tom Jones as President and CEO. Since then, the Mission, under Rev. Jones leadership, has developed the recovery program known as the Bridge to Life Program, which currently hosts 70 percent client participation. Additionally, in the last two years, City Rescue Mission has expanded its Social Services Center by partnering with over 70 local agencies offering comprehensive care free of charge to any City Rescue Mission client, including those from the community at large.
Trévo was recognized as a Pinnacle of HOPE sponsor, the third highest level of sponsorship.
Stevens was in attendance at the banquet along with Holli and they invited members of the Trévo executive team to share with them the impact City Rescue Mission has on the city Trévo is headquartered in. Executive Assistant, Kofi Williams, Director of IT, Devin Cox, and Director of Branding, Crystal Shirey, all attended with their guests.
Williams reflected on the event admitting she knew very little about the work of the Mission. "I gained an eye opening perspective of the breath and scope of work the City Rescue Mission does to help the less fortunate of Oklahoma City.
"I was most moved by the fact that the Mission does not simply address the basic survival needs of their clients, but equips them for lasting change with life skills, GED courses, counseling and job placement assistance," Williams said. "Mission of Hope 2014, a fitting name for the evening's event. I am proud to be a member of an organization like Trévo which supports grassroot, faith based efforts that help to restore, renew and review lives."
Trévo's compensation plan focuses on eight ways to make money. The eighth way is charity bonuses in which Trévo leaders that achieve Black Diamond Grand Elite status and above are rewarded with shares of the Trévo charity pool bonuses. These shares are distributed as donations to charities specified by these Life and Health Coach leaders, and are made in the name of the participating leader.
While no one has reached Black Diamond Grand Elite yet, the Stevens are looking forward to the time when they can assist in giving back even more to amazing organizations like the City Rescue Mission.
ABOUT TRÉVO
Trévo's Founders are Mark and Holli Stevens who have a proven track record of over 16 years as owners of a successful network marketing company. Mark and Holli have also been on the "other side of the table" as independent representatives, building organizations with tens of thousands of members. This dynamic duo also possess nearly four decades of combined business ownership expertise.
Trévo's proprietary blend of over 174 premium nutraceuticals, including maqui and acai berries, mangosteen, amalaki fruit, gotu kola, ashwagandha and a cornucopia of other fabulous nutraceuticals. In fact, Trévo has developed the only nutritional supplement in the world to combine and harness the power of such a remarkable array of vitamins, minerals, "supergreens," antioxidant-packed fruits and vegetables, coral calcium, and herbs from around the globe.