Trévo Partakes In Local Fundraising Initiative
October 3, 2014
By Nicole Dunkley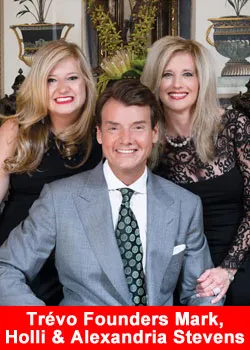 On November 14 some of the Oklahoma City Metro's finest professionals, community volunteers, leaders, and entrepreneurs will be honored at the Cystic Fibrosis Foundation's Breath & Beyond event at the Dunlap Codding Courtyard on Film Row.
Through this event Breath & Beyond Honorees have the opportunity to align themselves with a charity that helps to make a difference in the lives of so many families affected by cystic fibrosis (CF). Each honoree will take on the role of finding a cure for CF by raising critical funds for research during the months leading up to the event.
The Breath & Beyond event will be the capstone of the Honoree involvement. Guests at this "blue jean formal" event will have the opportunity to mingle, eat yummy food, and make a lasting impact by funding CF science.
Trévo Director of Branding, Crystal Shirey, is an honoree for the CF Foundation and participates in events to raise awareness and funds in her downtime. Shirey mentioned to Trévo President and CEO, Mark Stevens, that she is involved with the Foundation which led to Trévo donating money, becoming an Expert Sponsor.
"I came to understand what cystic fibrosis was through a good friend of mine, Blake Henry, while I was in college taking a photography class with him," Shirey said.
"Through the knowledge that [Henry] has shared with me about CF, I have become increasingly passionate about putting my efforts towards aiding in finding a cure. All of the CF stories I hear drive me towards doing anything I can to help these wonderful people who battle each and every day. I can only hope that my skillset will be of use in serving the CF community."
Cystic Fibrosis is a life-threatening, genetic disease that primarily affects the lungs and digestive system. It is found in about 30,000 people in the United States (70,000 worldwide). People with CF inherit a defective gene that causes a buildup of thick mucus in the lungs, pancreas and other organs.
To learn more about CF and donate, visit here.
ABOUT TRÉVO
Trévo's Founders are Mark and Holli Stevens who have a proven track record of over 16 years as owners of a successful network marketing company. Mark and Holli have also been on the "other side of the table" as independent representatives, building organizations with tens of thousands of members. This dynamic duo also possess nearly four decades of combined business ownership expertise.
Trévo's proprietary blend of over 174 premium nutraceuticals, including maqui and acai berries, mangosteen, amalaki fruit, gotu kola, ashwagandha and a cornucopia of other fabulous nutraceuticals. In fact, Trévo has developed the only nutritional supplement in the world to combine and harness the power of such a remarkable array of vitamins, minerals, "supergreens," antioxidant-packed fruits and vegetables, coral calcium, and herbs from around the globe.
Based in Oklahoma, Trévo LLC is powered by a global network of many thousands of energetic and excited Life and Health Coaches.
To learn more about Trévo, please visit trevocorporate.com.