Trévo Recognizes Rank Advancents Of Life and Health Coaches
October 15, 2014
By Nicole Dunkley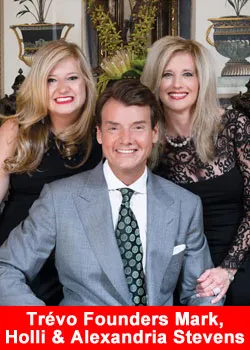 Trévo has set a fast track in its global growth, and its Life and Health Coaches continue to reap the benefits of the company's remarkable wellness product and generous compensation program.
Underscoring the amazing growth of Trévo's global community is the recently released recognition report for September 2014. During the course of just one month, 230 people advanced in ranking or qualified for the lucrative Trévo recognition program.
This phenomenal recognition program pays its Life and Health Coaches in eight powerful ways, ranging from long-term residual income streams to monthly pool bonuses to new car bonuses. Speaking of new car bonuses, the September recognition report showed five more people qualified to receive brand new cars – free – courtesy of the Trévo Car Bonus Program. Adding to the excitement are the thousands of dollars in pool bonus checks issued to Life and Health Coaches around the globe each and every month.
So the question is, do you know someone whose life is being transformed through the benefits of Trévo? Chances are your friends, family, neighbors or co-workers are learning first-hand how fabulous it is to live an empowered life with Trévo.
Here is the list of September's Trévo "movers and shakers":
BRONZE LEADER
Joseph Adie
Ayokunle Akinola
Funmilola Akinola ($500 Bronze Bonus)
Efezino Akpotu
Kingsley Amaechi ($500 Bronze Bonus)
Ubah Amaka ($500 Bronze Bonus)
Patience Johnson Anakwe
Matthew Atrogor
Chris Bloom
Jean Luc Ali Choo
Maureen Conner ($500 Bronze Bonus)
Darryl Ekhardt
Roland Marguerite Elisabeth
Ifeyinwa Benedicta Ezeh ($500 Bronze Bonus)
Oluwadamilare Micheal George
Amanda Goodman
Regina Gorman
Hauwa Muhammad Gwani
Ryan Hamilton ($500 Bronze Bonus)
Happiness Orirtsbemigho Idolor
Iwekumo Ikputu ($500 Bronze Bonus)
Michael Inman
Caroline Anelechi Jatto
Emere Joseph Johnson
Nkemjika Laura Linus
Tim Lowrey ($500 Bronze Bonus)
Michael E. Mack
Roseline Nkechi Nwankudu
Hopeson Azubuike Odukwu
Olubunmi Victoria Olukunle
Akuroseokike Adokiari Omubor
Chima Opara
Ozichi Owunwanne
Matthew Patrick
Data Pepple-Adie
Lucy Robbins ($500 Bronze Bonus)
Favour Ana Saaondo
Simon Alyegba Shomkegh
Pezia Soumou ($500 Bronze Bonus)
James Nwi Tanoe
Olivia Taylor
Eileen Tucker
Scott Tucker
Bibowe Kelly Tuodolo ($500 Bronze Bonus)
Pricillia Princess Ubah
Maryam Muhammad Umar
Patience Wakama
SILVER LEADER
Eric Ikechukwu Agbachi
Uchechukwu Agu
Christiana Akhimie
Sola Solomon Akinbami
Sharon Olalekan Akinoluwa
Ebi Alamene
Innocent Omunakwe Amadi
Ayodele Musibau Amusa
Efiong Edet Asian
Deborah Benson
Taibat Mojisola Boye-Bammeke
Kate Branham ($500 Bronze Bonus)
Brian Cameron
Elem Chimeka Chikoke
Virginia Chimeka-Elem
Chikelue Chukwunweike
Kumaran Eswara Doss
Margaret Fowler
Dan Fulton
Beth Ann Holmes
John Inman
Mercy Oritsegheyi Ipaye
Larry Jones
Sydney Keating
Jay Kendrick
Monica Kendrick
Daniel Olatunde Lordis
Stephen Lucie
Niambo Goura Maurice
George Moore
Muhammad Nisir Musa
Gloria Eyikaivea Ohaka
Ruth Udu Ohaka
Andrew Ikechukwu Okwedadi
Olubunmi Adekemi Olalekan
Jemimah Onosetale Omokhudu
Adebola Erinoso Ore
Irene Omoye Oyakhire
Philip Sanders
Ray Thomas
Felix Tuodolo ($500 Bronze Bonus)
Melanie Turner
Afoma Vincent
Osaze Michael Woghiren
GOLD LEADER
Vijayalakshmi A.
Olusegun Ikhuosho Abode
Chidi Benardine Agbaso
Esther Omojo Agida
S. Akash
Anthony Nnamdi Anakor ($500 Bronze Bonus)
Mouely Arnold
Ibito Sunday Azeri
Sharlene Barber
Patrick Booth
N'Figma Ilassome Borakpa
Beson Gloria Chinecherem
Michelle Fagen
Loua Epse Pegatienan Fatimata Genevieve
Jason Grant
Margaret Gray
Timilehin Bayo Jemilehin
Evan Krueger
Senthil Kumar
Josh Melching
Richard Miller
Norah Olaosebikan
Janet Olson
Kamatchi R.
Coulibaly Salimata
Beatrice Shomkegh
Nick Stenbergh ($500 Bronze Bonus)
Grace Tundun Udobong
Rabi Umar
Barbara Ward
PLATINUM LEADER
Olufemi Olayinka Banjo
Carla Baxter
Matthew Carr
Anthony Fuhrman
Dennis Hickman
Suzette Jolley
Allen Kwaghkor
Apo Leonie
Amanda Mathison
Oliver McGrath
Anthonia Chinelo Obodo
Duru Donatus Onyemaechi
Becky Rodriguez
Olabisi Segun-Adisa
Janie A. Simmons
Aya Brigitte Tano
PLATINUM EXECUTIVE LEADER
Elizabeth Abolurin
Osita C. Akamelu
Joseph Sambo Akpan ($500 Bronze Bonus and $500 Platinum Exec. Bonus)
Carla Baxter ($500 Platinum Exec. Bonus)
Michael Bibel
Lee Clayton
Chioma Lucymaurren Egbuna
Elijah Kennedy
Ghislaine Oulai Epouse Konate ($500 Platinum Exec. Bonus)
Alan Monroe
Brett Murray
Mary Ogan
Beatrice Emurobohwo Ojuederie
Gladys Nkechi Okonji ($500 Bronze Bonus and $500 Platinum Exec. Bonus)
D. Omoteso
Nadine Short ($500 Platinum Exec. Bonus)
Craig Tomlinson ($500 Platinum Exec. Bonus)
AMETHYST DIRECTOR
Okechukwu Tobechukwu Akuta
Bakers Arena ($500 Bronze Bonus and $500 Platinum Exec. Bonus)
Jean-Marie Katchadjo Ayefouni
Tamara Blake
Cynthia Brooks
Olaide Folorunso
Lois Griffin
Douglas Jackson
Folafoluwa Mafe
Jaime Martin
Laura Norris
Babafemi Olutosin Odubela ($500 Bronze Bonus and $500 Platinum Exec. Bonus)
Nathaniel Ogunniyi
Stella Udemba Okobi ($500 Bronze Bonus and $500 Platinum Exec. Bonus)
Atinuke Hannah Olarinre ($500 Bronze Bonus and $500 Platinum Exec. Bonus)
Ndubuisi Festus Osadunkwu
N'Djao Pitamatawe
Kerry Turner ($500 Platinum Exec. Bonus)
Edward Watkins
WHITE SAPPHIRE DIRECTOR
Russell Barnett
Terry Boxer
Amanda Dixon
Matt Griffith
James Kelley
Olufisayo Olugbenga Orimogunje
Kayode Akin Oso
Sophia Rivera
Arinze Noble Udah ($500 Bronze Bonus and $500 Platinum Exec. Bonus)
Nonso Ukatu ($500 Bronze Bonus and $500 Platinum Exec. Bonus)
RUBY DIRECTOR
Ken Adams
Salami Adebayo
Justina Amaduobogha
Joseph Olabode Edun
Victor Williams I.
Johnson Gabriel Krimi
Wayne Kruger
Fogofoluwa Mafe
Larry B. Norman
Sonia Nkem Nwanozie
Ben James Nwokocha
Taiwo Olajide Ogunsola
Dorids Ochuko Ojuederie
Victory Mkpouto Onyebueke
Benedicta Tuodolo ($500 Platinum Exec. Bonus)
George Walker
BLUE SAPPHIRE DIRECTOR
Rikki Crittendon
Sami Morgan
Manouan Epse Nguessan Solange
Robert Tarnowski
Ellen Thompson
Debbie Vincent
Stan Walsh
EMERALD DIRECTOR
Samuel Adair
Appah Charles
Faith Gerson
Joy Jack
Peter Kretchmar
Linda MacVey
Emmanuel N. Onuoha
Ana Sofia Orcutt
Christiana Samson
EMERALD ELITE EXECUTIVE
Steve Agar
Gayle Barrett
Amy Grellner
Jimmy Hunt
Egbiremhon Moses
Mabo Epouse Apali Olga
BLUE DIAMOND EXECUTIVE
Elaine Huff
Randy Kernke
Caroline Meecham
Jennifer Nash
BLUE DIAMOND ELITE EXECUTIVE
Brad James
Cynthia Olute
YELLOW DIAMOND EXECUTIVE
Debbie Blanton
YELLOW DIAMOND ELITE EXECUTIVE
Cindy Moorehead
ABOUT TRÉVO
Trévo's Founders are Mark and Holli Stevens who have a proven track record of over 16 years as owners of a successful network marketing company. Mark and Holli have also been on the "other side of the table" as independent representatives, building organizations with tens of thousands of members. This dynamic duo also possess nearly four decades of combined business ownership expertise.
Trévo's proprietary blend of over 174 premium nutraceuticals, including maqui and acai berries, mangosteen, amalaki fruit, gotu kola, ashwagandha and a cornucopia of other fabulous nutraceuticals. In fact, Trévo has developed the only nutritional supplement in the world to combine and harness the power of such a remarkable array of vitamins, minerals, "supergreens," antioxidant-packed fruits and vegetables, coral calcium, and herbs from around the globe.
Based in Oklahoma, USA Trévo LLC is powered by a global network of many thousands of energetic and excited Life and Health Coaches.