July 2014 Marks A Banner Month For Trévo Life And Health Coaches
August 19, 2014
By Nicole Dunkley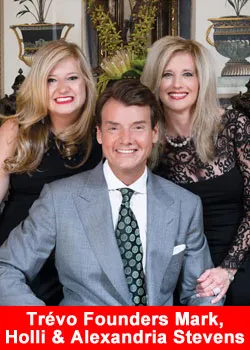 As Trévo continues its global expansion more and more people are enjoying the fruits of its recognition program. Case in point, during just the month of July, six people qualified to receive brand new cars, free courtesy of the Trévo Car Bonus Program and hundreds of people received thousands of dollars in pool bonuses through Trévo's Pool Bonus Program.
In all, during July, 210 people advanced in the Leader level of Trévo's recognition program; 94 attained the Director level; and 15 moved up to the elite level of Executive.
The Trévo recognition program, which is directly tied to its remarkable compensation program, is a driving factor in the company's skyrocketing growth and success around the globe. "Recognizing the achievements of our Life and Health Coaches is something that we love to do," CEO Mark Stevens said. "Each achievement is an important milestone in their journey toward the greatness for which they were created and we celebrate that."
Stevens goes on to say, "It is truly a joy to be a part of empowering the lives of Trévo's global family. For each person whose life Trévo changes there is an opportunity to create a legacy of prosperity, purpose and wellness within their family, their community and their country. That legacy of making the world a better place, one life at a time, is our mission and our passion."
For more information about the Trévo opportunity and recognition program, please visit trevocorporate.com.
Below are the ranking achievements for the month of July.
Bronze Leaders
Vincent Kwaku Adiamah, Esenam Rahel G. Akrobotu, James Kyei Baffour, Bishop Ebi Stanley Belepeigha ($500 Bronze Bonus), Aboulai Fuseini-Bila, Amy Brown, Richard Campbell ($500 Bronze Bonus), Nguessan Adjoua Claudine, Martin Chidiere Dimgba, Hillary Uwaoma Ewuzie, N'Zue Epse N'Djak Amako Denise Francoise, Lois Iyika, Rebecca Mahusi Kouhozoun, Theresa Akpomedaye Mamma, Ismail Mohammed Mbila, Kouame John Marius Nguessan, Nneka Petronylla Okoli, Janet Pollard, Clarisse Sprague, Christian Robert Yayra Acolatse, Akwasi Ohenenana Adu, Olajide S. Favor Amos, Pam Bailey, Osy Chukwugbo Benjamin ($500 Bronze Bonus), Phyllis Yvonne Tettem, Rachel Tarnowski ($500 Bronze Bonus), Erik Tarnowski ($500 Bronze Bonus), Tsague Nguekam Bernadette Sylvie, Matthew Dunne, Steve Forrest, Margaret French ($500 Bronze Bonus), Timilehin Bayo Jemilehin, Mike Levinson ($500 Bronze Bonus), Adeyemi Olajide Marshal, Ernestina Mensah, Anthonia Chinelo Obodo, Morenikeji Oladipo, Coulibaly Salimata ($500 Bronze Bonus), Karidia Sylla ($500 Bronze Bonus), Mrs. Jane Aku Acolatse, Ebenezer Aidoo, Eric Apotey, Olumide Bankole Balogun, Afoma Vincent, Joyce Ekeigwe Uche, Grace Travis, Martins Tolofari, Emmanuel Kocho Teye, Precious Tukuru Emieyefa, Susan Forrest, Trisha Gordon, Affoue Kouakou, Daniel Olatunde Lordis, Niambo Goura Maurice, Gideon Mensah, Gladys Ozoemena Ogbogu, Glenn Pollard and Dylan Smith
Silver Leaders
Ahissia Ahua, Edet Edem, Tam Eperefugha, Sylvia Gibbs, Peter Hurley, Emmanuel Asuorieh Matey ($500 Bronze Bonus), Karen Mowrey, Abigail Ndego, Chibueze Obi, Hannah Owens, Sharon Nyingi Stowe, Todd Winters ($500 Bronze Bonus), Tamuno-Nengiye-Ofori Daka, Frederick Antepim $500 Bronze Bonus), Emmanuel Afful, Mr. Emmanuel Ahenfo, Samuel Bamidele Fasogbon, Jeff Gibson, Adrian Johnson, Angelina Mensah-Nelson, Celestine Adzo Amamu, Peace Akudo Nwankow ($500 Bronze Bonus), Ngozika Obi, Mark Sembolloi, Abigail Tanu, Gail Wright, Adu Kwaku Bismarck, Bloom Abam, Sarah Bediako Addo, Raymond Agul, Loua Epse Pegatienan Fatimata Genevieve, Neal Heffner, Jase Lincoln,Osy-Chukwugbo Amaka, Nana Kwandwo Fordjour Aikins, Jessy Ijeoma Obasi, Ayodele Olusodo, Linda Simmons, Aileen Winters ($500 Bronze Bonus), Oheneba Richard Asiedu and Margaret Ebioborere Boro Appah
Gold Leaders
Catherine Bosch, Jacqueline Koutouan Adja Epse Beugre, Matthew Carr, Sekou Coulibaly, Kouame Amon Delphine, Makagnon Hourega Emmanuel, Bruce Fowler, Zranhene Jacob, Kouame Yao Huberson Felix Koffi, Kroma Lucien, Samuel Kiaka Moses, Nathaniel Ogunniyi, Katie Sussman, Agbede Tolu, Tiffany Wallace, Beatrice Appah, Azara Alhassan, Olufunmilayo Hannah Asaolu, Patricia Obeng Bakah, Augusta Tinuade Dawodu, Kouame Affoue Juliette Armande E., Kimse Collins Eperefugha, Loukou Gnamien, Emmanuel Kings ($500 Bronze Bonus), Russ Larken, Amanda Mathison, Kate Obiageli Nwokoye, Johnson Olabisi, Brigitte Tano, Nwokeke Chukwuka Udenze ($500 Bronze Bonus), Roseline Mayang Adejumo, Simon Kodjo Agbevadi, Nuifa Agbogedenu, Kouame Ngoran Jean Alain, Oluwabunmi Dele-Salami ($500 Bronze Bonus), Chioma Lucymaurren Egbuna, Olaide Folorunso, Dennis Hickman, Rachel Kirby, Apo Leonie, Joe Meadows, Janice Oakley, Ndubuisi Festus Osadunkwu, James Teyikpa, Ebelechukwu Ebube Uzochukwu and Osita K. Akamelu
Platinum Leaders
Sally Kennedy, Joseph A. Azumah, Samantha Leighton, Gideon Maulede Nuertey ($500 Bronze Bonus), Doris Ochuko Ojuederie, O. Omoteso, Saratu Salifu, Kerry Turner, Justice Acheampong, John Farmer, Brian Carson, Anne Marie Ngounou, Benjamin Mii Out-Adzin Odiko, Ademole John Olaleye, Kayode Akin Oso, Carol Scribner, Emmanuel Tannor Twum, Okechukwu Tobechukwu Akuta, Janet Hall, Ifeanyi Cletus Ezeh, Abama Eric Sylvain Acadier, Chinda Ohaka, Kalidou Myriam Nadia Olivane, N'Djao Pitamatawe, Oluwagbemiga David Shoyemi, Amanda Whelan and Ginette Anga
Platinum Executive Leaders
Andrews Narty Adjartey, Adetayo Ramat Agbaje, Sandra Adu Agyemang, Russell Barnett, Aladesanmi Deborah ($500 Bronze and $500 Platinum Exec. Bonus), Charlotte Marina Ehouabolet, Emmanuel Gyau, Muyiwa Johnson ($500 Bronze and $500 Platinum Exec. Bonus), Gifty Dewi Matey, Ann Nuertey, Nick Patterson, Chinedu Reuben Ugomba, Bragahi Thie Francois-Xavier Yessoh, Salami Adebayo, Adedayo Henry Agbaje, Jerry Simeon Ariomovuohoma, Akissi Marie Louise Ble, Hugues Yawovi Dodji Digo, Modupe Esther Fanibuyan, Stanley Okosodo Ihanene, Mguedjeu Joseline, Susana Menka, Oluwatosin Taiwo Oladimeji, Seth Potter ($500 Platinum Exec. Bonus), Filbert Wamba, Mary Adams, Rotimi Philip Afekhuai, Jean-Marie Katchadjo Ayefouni, Todd Clifton, Amanda Dixon ($500 Platinum Exec. Bonus), Mafe Daniella Fopefoluwa, Ndrin Jacqueline, Sean Lynch, Ikengwu Nonye, Osunkoya Oluwatosin ($500 Bronze and $500 Platinum Exec. Bonus), Adeniran Adebayo Samson and Yapo Adon Roch Jaures Wilson
Amethyst Directors
Jeffrey Agboli, Clement Aluma Apiiga, Olumide Oluwole Arowobusoye, Beauty Egidi, Eunice Kodjo-Gbebie, Salome Koryoe Kwabla, Tina Manger, Stanley Uchenna Njoku, Okechukwu Nweke, Peter Pamfo Saah, Kathy Tarnowski, Abayomi Adeboye ($500 Platinum Exec. Bonus), Eric De-Rockson Anokye, Nzue Kouakou Basile, Anthelme Ehouabolet, Peter Kretchmar, Simon Kwaghbula ($500 Bronze and $500 Platinum Exec. Bonus), Samuel Mensah-Nelson, Joseph Nuertey-Kwabla, Symon Atitse Quarshie, Becky Simpson, Egidi John Uzezi ($500 Bronze Bonus), Emmanuel Terhemba Abur, Michael Terrence Ampem, Dare Peter Dagunduro, Igbokwe S. Iloloma, Johnson Gabriel Krimi, Fogofoluwa Mafe, Kwasi Nana Mfum, Michael Nuertey, Miguel Angel Rojas, Ryan W. Smith and Bonnyface Ibeabuchi Williams
White Sapphire Directors
Joseph Olabode Edun, Bill Ellis, Ben James Nwokocha, Christiana Samson, Fanta Kwame Bakah, Janice Fisher, David Odom, Tonye John Samson, Janet Ibifiniwari Amotsuka, Victor Williams I., Victory Mkpouto Onyebueke and Aaron Stubblefield
Ruby Directors
Hafsat Adewumi ($500 Bronze and $500 Platinum Exec. Bonus), Ngo Martin Alalibo, Comfort Iveren Atser, Tom Cooper, Ginkem Global Services ($500 Bronze and $500 Platinum Exec. Bonus), Precious Johns, Odette Epse Bissagnene Kore, Kehinde Olufowobi ($500 Bronze and $500 Platinum Exec. Bonus), Ibukun Ayodele Simeon-Saidi, Abuah Anthony Udoka, Akwasi Adu Agyemang, Christina Allman, Euice Erdoo Atser, Emma Ewuzie, Prince Ikechukwu Jacob, Courntey Lane, Dorothy M. Peremo, Alice Smith, Ngunan Patience Wombo, Michael Akomea-Dompre, Temitope E. Aregbesola, Appah Charles, Edith Esinam Fiagbe, Kasum Mariam, Gifty Araba Effrim Saah and Susie Thomas
Blue Sapphire Directors
JoAnn Aldridge, Johnson Jude Chukwudi, Joy Jack, Ray Phillips, Akpassoumala T. Ange Armel, Umejibulu Boniface Chiduluo, Okiefemena Joel Idolor, Noah Korboe, Steve Agar, Darla Hanley and Ejimkonue Osita Jude
Emerald Directors
Tsenongo Hiam Abancha ($500 Bronze and $500 Platinum Exec. Bonus), Steven Chinedu Onah Aloysius, Tonbara Inoma Batubo, Barbara Miller, Margaret Abosede Ajayi, Elsie Eleeh Awumee, Augustina Chinonye Mbata, Bob Abernathy, Caleb J. Amotsuka, Igbinosa David Enabeghe and Kimberly Stahl
Emerald Elite Executives
Catherine Tersoo Ankar, Kelly Harvey, Kristen Matteo, Deanna Viera and Nori Emilinenne Zouzou
Blue Diamond Executives
Isabella Adler, Simeon Saidi Ekundayo, Cameron Evans, Pamela Fitzgerald, Kouassi Kouame Lambert and Cynthia Olute
Blue Diamond Elite Executive
Joel Bailey
Yellow Diamond Executives
Cornelius Yao Habada and Joshua Minick
Yellow Diamond Elite Executive
Trevor Moore
Qualifying for Car Bonus
Isabella Adler, Cornelius Yao Habada, Glenda Harris, Bamgbose Oluseun, Mafe Adekunie Olusina and Mukaila Kolapo Liasu
ABOUT TRÉVO
Trévo's Founders are Mark and Holli Stevens who have a proven track record of over 16 years as owners of a successful network marketing company. Mark and Holli have also been on the "other side of the table" as independent representatives, building organizations with tens of thousands of members. This dynamic duo also possess nearly four decades of combined business ownership expertise.
Trévo's proprietary blend of over 174 premium nutraceuticals, including maqui and acai berries, mangosteen, amalaki fruit, gotu kola, ashwagandha and a cornucopia of other fabulous nutraceuticals. In fact, Trévo has developed the only nutritional supplement in the world to combine and harness the power of such a remarkable array of vitamins, minerals, "supergreens," antioxidant-packed fruits and vegetables, coral calcium, and herbs from around the globe.
Based in Oklahoma, Trévo LLC is powered by a global network of many thousands of energetic and excited Life and Health Coaches.