Vemma® Awards More Than $50,000 In Cash And Prizes In Chris Powell Bod-e™ Transformation Challenge
October 8, 2014
By Tina Williams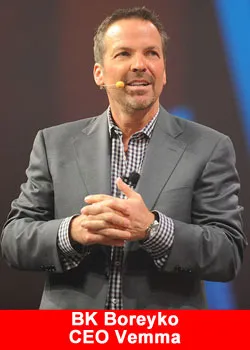 Vemma awarded more than $50,000 in cash and prizes on September 26 to the winners of its latest Chris Powell 12-Week Bod-e Challenge. The event, held at the company's Home Office in Tempe, Arizona, highlighted more than a dozen Vemma Affiliates' and Customers' incredible weight-loss transformations.
TV Celebrity Transformation Specialists and Vemma Bod-e Spokespeople Chris and Heidi Powell chose the Challenge winners and applauded their efforts via video during the event.
"Heidi and I are so proud of each of the challenge winners, and we congratulate them for having the courage and dedication to make a positive and lasting impact on their lives," said Chris Powell.
The Men's and Women's Individual, Couple's, and Team category winners took the stage. The Winners, who collectively lost a total of 429 pounds over the 12-week contest period*, are:
Vonetta Huddleston of Rancho Cordova, CA (Grand Prize)
Keith Zoeteman of Queen Creek, AZ (Grand Prize)
Linda and Cara Clark (mother and daughter) of Fort Worth, TX (Grand Prize)
Jodi Kruse of Grants Pass, OR
Tim Maloney of Churchville, NY
Briana Hipps and Brandye Reeves (friends) of Haslet and Arlington, TX
Glenn Gajeski and Stephanie Wijas of Little Suamico, WI; Hollie Linder of Suamico, WI; and Cheryl Luisier of Oconto Falls, WI (Team Grand Prize)
Rose Sendejaz and Anna Gensimore of Clinton, OH; and India Laubacher and Daniel Laubacher of San Marcos, CA
Individual and Couple's Grand Prize Winners receive a $5,000 dream vacation travel voucher, a cash reward of $2,500, a $1,000 shopping spree and an ultimate makeover retreat and photo shoot in Tempe. Runners up received a cash reward, shopping spree and makeover retreat.
Those interested in the next Chris Powell 12-Week Bod-e Challenge can learn more and sign up at www.vemma.com/bode/challenge.
About Vemma:
Founded in 2004 by BK Boreyko and his two sisters, Karen and Lauren, Vemma Nutrition Company enjoyed $100+ million growth last year as one of the premier industry leaders specializing in premium liquid nutrition. The Vemma brands include the clinically studied Verve® healthy energy drink and Vemma Bod-e®, a weight loss line. Vemma is headquartered in Tempe, Arizona. More information, Vemma.com.
*Two pilot studies conducted by Vemma showed that 55 participants who followed the Vemma Bod-e Transformation Plan for 12 weeks using Vemma Bod-e Burn, Bod-e Cleanse and Bod-e Rest, lost an average of 14.8 pounds. Vemma Nutrition Company recommends you follow a healthy approach to weight loss by consulting with your physician or healthcare provider before starting any new exercise, diet plan, nutrition or supplementation program, particularly if you suffer from any medical condition or regularly use prescription or over-the-counter medications. The Vemma Bod-e products as part of the Vemma Bod-e Transformation Plan should be used in conjunction with a healthy diet and 10 minutes of daily exercise.