WOR(l)D Global Network Gives Back In Zambia
October 14, 2014
By Team Business For Home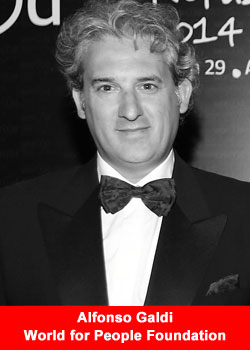 WOR(l)D Global Network corporate social responsibility project World for People Foundation inaugurates the first WfP school in Zambia, first country selected for a WFP project. The school will eventually provide education for over a thousand children
WOR(l)D corporate social responsibility project World for People Foundation is creating socially innovative initiatives in Education worldwide. This is one of the main objectives which will give life to the very first World for People Foundation school in Kamatipe, one of the poorest outskirts in Kitwe city, Zambia.
The World for People School is the first project under the World for EDU initiative created in partnership between World for People, WORL(l)D and the local charity in Kamatipe which built the school with just over $500K in donations. The school is composed by 16 classrooms and currently attended by around 940 primary school pupils.
After a year long research trips on site, World for People has decided to take the lead of the school and it will contribute to the education of the pupils and eventually positively affecting the over 15,000 inhabitants of Kamatipe.
Alfonso Galdi – Chairman of World for People Foundation stated: "From multi-level to social, our ambitious goal is now to implement the first experimental project in education by launching World for EDU"
This project has been selected by the Board of Trustees following an international call for applications for assistance launched by the Foundation earlier this year. Its aim is to fund development programmes which will be implemented through socially innovative projects using cutting-edge technology and which will have a positive impact on the lives of local people.
After selecting the project amongst a large number of applicants, the World for People Foundation, in partnership with WOR(l)D, will take over the management of the school with the aim of turning it into an experimental project for equipping pupils with the best educational tools. For the first time ever a Direct Selling player as big as World Global Network conceives such an important socially innovative project,
"I decided to suggest this project to the Trustees Board," stated World for People Foundation Chairman Mr. Alfonso Galdi, "after assessing different buildings during my research trip to different organisations which applied for funding. We found that the building itself has a lot of potential which we can build on and we shall release the news in early 2015."
This project was conceived during a critical time, especially given the 50th Independence anniversary of Zambia on the 24th of October. With less than 500 days left to the 2015 target date for achieving the United Nations' Millennium Development and 'Education for All' goals, there are still 58 million children not receiving schooling and 250 million children who are still illiterate even after four years of schooling.
Our utmost priority is providing the highest quality education; education to shape the world into a better place. As Special Envoy for Global Education of United Nations Gordon Brown argued that We need education first, education foremost, education forever.
About the project and WOR(l)D:
World for EDU is a Program of World for People Foundation which support local entities by empowering the community with education, facilitating dialogue between civil society and institutions. The main goal is to decrease inequality among society by helping weaker individuals in education in order to join the decision-making process of their community. Only by acquiring intellectual honesty citizens can determine their own destiny.
World for EDU funds educational projects in developing countries.Notably, the program sponsors educational centres in the poorest areas of the world in order to help especially women and children.
WfP School in Zambia
World for People Foundation School is a project under World for EDU. It represents an unprecedented chance to change the destiny of communities by channelling efforts towards social innovation, technology and sustainable development. These core values are in line with the United Nations Global Compact, which the Foundation joined as participant in 2014.
Geographical context:
Kamatipe, Kitwe-Zambia, Africa

Objective
Creating a school where IT knowledge, social innovation and sustainable development are at the core of the mission. A special focus is also given to renewable energy production in order to generate a long term sustainability plan for the community.
Recipients
-Direct: 940 children
-Indirect: the whole community counting over 15,000 inhabitants benefitting from the action plan.
Budget
$300,000
Lenght of the project
3 initial years to be extended to 5
WOR(l)D
Improving people's lives, offering an unequalled business opportunity and revolutionary products: these are the pivotal mission points of WOR(l)D and of his CEO Fabio Galdi. WOR(l)D in a few years established itself as one of the leaders of the networked economy.
Featuring the latest generation of pioneering wearable technology, Space computer and Space glasses will allow users to comfortably wear binocular smart glasses which are connected to a small 8×4 cm personal computer.
But ambition does not prevent WOR(l)D to widen the tech horizon. In fact, one of the main brands under WOR(l)D, Power Clouds, establishes itself to be one of the largest solar energy producer in the world with the creation of almost 20 solar plants worldwide in one year in constant growth.
WOR(l)D is therefore a multifaceted company which establishes itself as ground- breaking innovator in tech, renewable energies and social.